Hellcats is an old school heavy metal band from Slovenia and is the first all – female metal band from there. It was formed in Ljubljana in 2003 by sisters Sasha and Sonja Zagorc who have started to perform together in their childhood.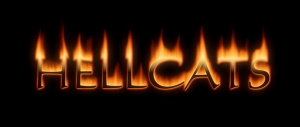 Audio clip: Adobe Flash Player (version 9 or above) is required to play this audio clip. Download the latest version here. You also need to have JavaScript enabled in your browser.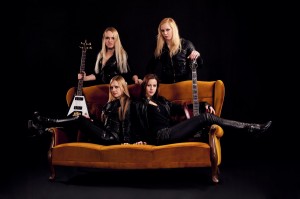 Country: Slovenia
History: 2010 – Present
Status: Active
Style: Heavy Metal
Biography
The band Hellcats was formed by the sisters Saša and Sonja Zagorc, who are the authors of the lyrics and music, while Saša also manages the band. Due to the small size of Slovenian music space it took them a while to find the right female musicians willing to play and create music in such a genre. Such musicians are far and few in between as the road is hard and very unusual for girls. After a few band member changes, Hellcats gained one of the best female guitar players in Slovenia, Katja Mavec. During the same year they also found a new singer, Ana Šinkovec, who turned out to be the right choice as she immediately felt the vibe with other band members.
After the well-received single Heavy Metal the group recorded a song Vladar No?i, which was released on an EP. The girls recorded in the Conti Studio with the producer Davor Konti?, while mixing and mastering was done by the Laibach producer, Grant Austin. The song Vladar No?i was also recorded in English, titled The Master of the Night as Hellcats are gaining recognition and interest also abroad.
Besides concerts, they have regular interviews for media all across the globe and the bassist Saša also became the metal maiden of the month on the Metal Maidens web portal.
In the mid 2012s, the all-female group Hellcats was at the turning point of their careers: the quartet was invited to tour Russia and play five concerts there. In one week they played and travelled from Moscow to Tambov City, which is almost 1500 km away from Moscow. As main performers they played the biggest female bands rock festival in Kaluga titled "Zheleznye devy" or "Iron Girls".
After numerous resounding concerts on big stages they twice performed at Metal Camp, in front of a full auditorium, this year, in Banja Luka, they achieved incredible success as they became the first Slovenian music group that managed to get into the finals of their biggest music festival Jelen Demofest, based on the grades given by the jury presided by Vladko Stefanovski. They were chosen among more than 400 groups! On the competition they achieved 4th place and thus became the highest placed foreign band on the festival.
Lineup
Sasha Zagorc – Bass, backing vocals
Sonja Zagorc – Drums, backing vocals
Katja Mavec – Guitar
Ana Šinkovec – Vocals
Discography
2011, "The Master of the Night" (EP)
Related links
Hellcats Official
Hellcats @ Facebook
Hellcats @ Twitter
Hellcats @ YouTube
Gallery
Videos