Inicialmente llamadas Obsession, tuvieron que cambiar el nombre en 1983 al ya existir otro grupo con el mismo y obsesivo nombre. Leather Angel fue el escohido, bajo el cuál se escondían Terry O'Leary (voz), Cathy Amanti (bajo), Debbie Wolf (guitarra) y Krissi North (batería).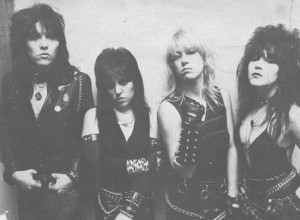 Audio clip: Adobe Flash Player (version 9 or above) is required to play this audio clip. Download the latest version here. You also need to have JavaScript enabled in your browser.
Country: United States
History: 1981 – 1985
Status: Inactive
Style: Heavy Metal
Biography:
Initially called Obsession, they had to change their name in 1983 as it existed another band with the same obsessive name. Leather Angel was the one chosen, under which they were hidden Terry O'Leary (vocals), Cathy Amanti (bass), Debbie Wolf (guitar) and Krissi North (drums).
Settled in Los Angeles, they walked up and down the whole rock scene in West Hollywood, which has provided bands like Motley Crue, Guns N 'Roses, L.A. Guns, Poison, Warrant or Vixen.
But they never had the success of the aforementioned groups and released a lonely EP in 1983 called "We Came To Kill". It was a pity that their production manager Keith Dyson failed to get the best from a band that did show great potential. Shortly after he was ousted by the band due to disagreements about the direction to follow.
After him, Krissi North leaves the formation being substituted by James Kerri, and Danelle Kern is added as support guitar. This allowed Debbie Wolf to better explore her guitar skills, as highlighted in the six-minute single version of Led Zeppelin's "Whole Lotta Love".
With this five-piece lineup, Leather Angel toured with Ratt, Lazz Rockit, Steeler, Black & Blue and Hellion. They were about to open two Dio, but their respective managers were unable to agree on the conditions.
Seeing her potential, Debbie Wolf decided to break through with her solo career, leaving Leather Angel. She had no substitute, remaining only Danelle Kern as guitarist, so the training was a quartet again.
Being very different from the original, they thought it was time to change its name to Jaded Lady.
Lineup:
Terry O'Leary – Vocals
Cathy Amanti – Bass
Debbie Wolf – Guitar
Danelle Kern – Guitar
Kerri James – Drums
Former members:
Krissi North – Drums
Discography:
1983, "We Came To kill" (EP)
Related links:
http://www.metal-archives.com/band.php?id=11241
http://www.sleazegrinder.com/flashmetalleatherangel.htm