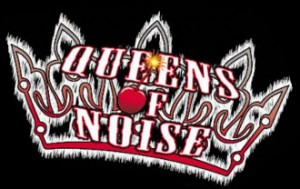 Country: Italy
History: 2011 – Present
Status: Active
Style: Hard Rock
The Queens of Noise were born on february, 2011. Roxy, being nostalgic of dirty ROCK'N'ROLL sounds of the '70s, undertook the venture of creating a band who could pay homage to the first all female american band, which twisted the history of rock: the RUNAWAYS.
Roxy, Eve, Taly, Astrid and Kery are all maidens whose veins are filled with the energy of distortions. Recently, the band embarked on the natural evolutionary turning point, inspired by experiences on stage and off, ventured into writing original songs, which are offered among the successes of the Runaways on stage. Latterly, Jam joined the band on drums, replacing Astrid, so now the new line up is ready to set the stages on fire!
In March, 2014 the Demo ROAD TO LURZ (recorded with Astrid on drums in October, 2013) is finally available!
Follow them to the… "ROAD TO LURZ"… THEY'LL DRIVE YOU WILD!
Valentina Salicari (TALY): Vocals
Valentina Cellini (EVE): Lead Guitar
Martina Zoccolini (ROXY): Rythm guitar
Erika Bastianelli (KERY): Bass guitar
Laura Tirelli (JAM): Drums