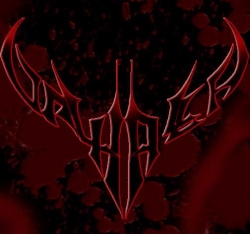 Country:
Brazil
History:
1989 – Currently
Status:
Active
Style:
Death Metal
Audio clip: Adobe Flash Player (version 9 or above) is required to play this audio clip. Download the latest version here. You also need to have JavaScript enabled in your browser.
Valhalla (formerly Necrophia and Phobia) began their career in 1989, and today remain active and with 2 LPs under they belt. The first was titled "… In The darknes Of Limb" which opened the gates to perform several concerts throughout Brazil.
As major influences of their sound are cited Deicide, Unleashed, In Flames, Massacre, At the Gates, Hypocrisy, Dark Tranquility, Morbid Angel, Monstrosity, Bolt Thrower, Behemoth and mainly Death.
For various reasons they split for 5 years after which Valhalla returned with a renewed lineup, including new components Michelle, Carol and Marcelo, who joined the sisters Alessandra and Adriana.
This would be the formation that would record the 2001 CD single "For Might Of Chaos … For The Force Inside" and in 2002 the LP "Petra Self", under the label Hellion Records. The CD was produced by Alessandra, Adriana and Michelle, after initial problems with the producer agenda.
Upon publication, Valhalla shared the stage with Dark Funeral, Krisiun and Vader, being now an entirely all-female band after Ariadne joined on drums and Amanda on bass.
Currently they are performing gigs in Brazil.
Ariadne Souza – Vocals, drums
Adriana Tavares – Guitar
Alessandra Tavares – Bass
Kayo John – Drums
Marcelo – Drums
Lena – Bass
Andrea – Vocals
Rodrigo – Drums
Caroline – Vocals
Amanda – Bass
Michelle – Vocals
1990, "Demo" (demo)
1995, "…In The Darkness of Limb" (LP)
2001, "For the Might of Chaos…For the Force Inside" (EP)
2002, "Petrean Self" (LP)