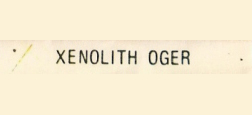 Country:
Japan
History:
1985 – ?
Status:
Inactive
Style:
Thrash Metal
Audio clip: Adobe Flash Player (version 9 or above) is required to play this audio clip. Download the latest version here. You also need to have JavaScript enabled in your browser.
Initially called Zet, this was one of the first thrash metal bands in Japan, and one of the hardest to find information of.
They were born in Kanawaga, and published two demos at the end of the 80s. Both of them had different vocalists.
They reappeared in 1995 in an split called "Gore Gore Girls", together with to female bands, Women From Hell (Hardcore USA) and Roadrunners (Hardcore Punk from Sweden).
Hitomi Takahashi – Vocals
Mizuho Muroi – Guitar
Akiko Mizuno – Bass
Yoko Ogura – Drums
1987, "Deadly Sins Worth Death" (Demo)
1989, "Cattle Brand" (Demo)
1995, "Gore Gore Girls" (Split with Women From Hell and Roadrunners)