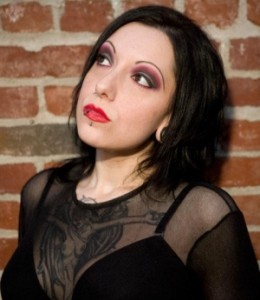 Location: Fullerton, CA (USA)
myspace.com/BettyMankiller
Your favourite Metal Style
Doom Metal
Your Bands TOP 5
Neurosis, Siouxsie and the Banshees, Acid Bath, Warhorse and Haizum
Male Musician most apreciated
Dax Riggs
Female Musician most apreciated
Dana Duffy
Song always playing in your headphones
Black By: Neurosis
Best concert you've been to
Kreator, they still tear it up!
Favourite Food
Anything vegan
Favourite Drink
Vodka Redbull
Your hobbies
Writing poetry, making clothes and jewelry, playing guitar and bass, singing, running my non profit "This is Revolution", modeling, clubbing and so much more.
Write a message to the readers
Check out my non profit www.ThisIsRevolution.org.