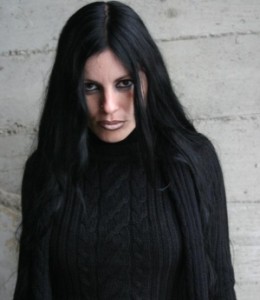 Location: At the moment at the hunted side of Phoenix, AZ (USA). Originally from Brazil.
www.myspace.com/DemonaBast
www.myspace.com/TheBandWet
www.myspace.com/vypfilms
www.myspace.com/GodExperiment
www.myspace.com/MJ12TV

Más vídeos en www.youtube.com/DemonaBast

Your favourite Metal Style
Doom, Black Metal, Trance Metal, Melodic Metal, Experimental Metal
Your Bands TOP 5
Opeth, King Diamond, Incursus, Burzum, Abrutum
Male Musician most apreciated
Vlasoroth aka Valfor (VJS) 😉
Female Musician most apreciated
Diamanda Galas
Song always playing in your headphones
Besides mine lol…Opeth (Black Water Park), Anathema (Judgement), Burzum (Filosofem), Dead Can Dance (Cantara)
Best concert you've been to
Opeth
Favourite Food
Brazilian, Italian, Churrasco with rice and beans, Smashed Potatoes, Pizza, Chinese Food and etc…
Favourite Drink
Caipirinha, Sangria Wine, Mixed drinks, Fruitty Juices, Coffee
Your hobbies
Act, Sing, Model and dance for Alternative Dark Projects
Write a message to the readers
To the MetaLadies website, all Fans and friends out there…Thanks for all of your help and support! New movies, CD and photos will be out soon.
For more info visit
my official myspace.com site
.
Till next time… 😉
In Darkness…
with…
Demona Bast