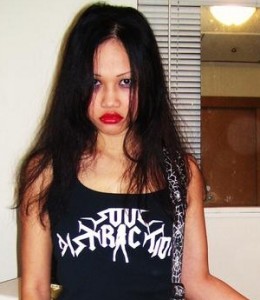 Name: Elsa Faith
Lotion: Vancouver, WA (EEUU)
myspace.com/evil_elsa
myspace.com/souldistraction
Audio clip: Adobe Flash Player (version 9 or above) is required to play this audio clip. Download the latest version here. You also need to have JavaScript enabled in your browser.
Your favourite Metal Style
Thrash
Your Bands TOP 5
Megadeth, Queensryche, Aerosmith, Venom and Helloween.
Male Musician most appreciated
Dave Mustaine
Female Musician most appreciated
Dolores O'Riordan (I love her voice!)
Song always playing in your headphones
Power by Helloween
Best concert you've been to
Queensryche @ Newmark Theater, Portland, OR (2008)
Favourite Food
Anything spicy and homemade
Favourite Drink
Vodka + (add any sweet drinks here. Example: Cranberry juice, Sprite, Redbull, etc)
Your hobbies
Photography, cooking, jamming, watching Southpark, reading, traveling and most importantly – fucking… Hahaha…
Write a message to the readers
Being a bitch to the people you love is not sexy.