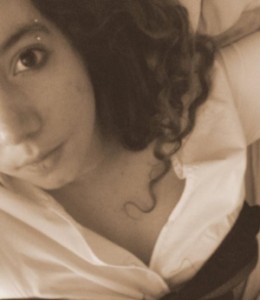 Name: Emily Sylvie
Location: Austin, TX (USA)
Audio clip: Adobe Flash Player (version 9 or above) is required to play this audio clip. Download the latest version here. You also need to have JavaScript enabled in your browser.
Your favourite Metal Style
I love it all! 😀 Right now I've been listening to a lot of old school death metal, grindcore, and folk.
Your Bands TOP 5
Carcass, Suffocation, Opeth, Emperor, Bathory
Male Musician most apreciated
Quorthon, without a doubt.
Female Musician most apreciated
Doro Pesch
Song always playing in your headphones
"Inpropagation" by Carcass
Best concert you've been to
It's a tie! Either the Emperor concert in Norway, or the Carcass reunion tour.
Favourite Food
Sushi!
Favourite Drink
Dr. Pepper
Your hobbies
Photography, writing, spending time with friends, and of course going to as many shows as possible.
Write a message to the readers
Keep supporting the ladies of metal!