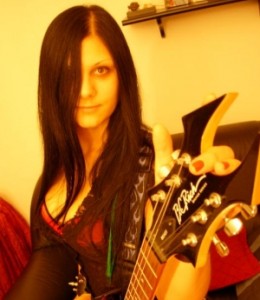 Name: Evilangel
Location: Italy
myspace.com/evil_evil_evilangel

Audio clip: Adobe Flash Player (version 9 or above) is required to play this audio clip. Download the latest version here. You also need to have JavaScript enabled in your browser.
Your favourite Metal Style
Death/Black/Goth
Your Bands TOP 5
Dark Tranquillity, In Flames, Cradle of Filth, Tiamat, The 69 eyes
Male Musician most apreciated
Michael Stanne
Female Musician most apreciated
Courtney Love
Song always playing in your headphones
Day To End – Dark Tranquillity
Best concert you've been to
Marilyn Manson
Favourite Food
Pizza!
Favourite Drink
Tequila!!!
Your hobbies
Me, myself and I.
Write a message to the readers
I was born from the fight of an angel and a demon.