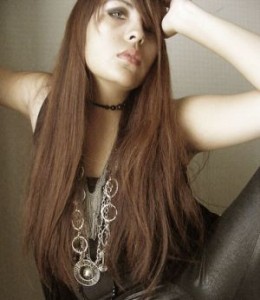 Name: Fiction
Location: Antofagasta (Chile)
www.myspace.com/fiction_
Your favourite Metal Style
Death metal
Your Bands TOP 5
I have so many favorite bands that is hard to choose, probably Arch Enemy, Opeth, Children of bodom, Carcass and Pantera.
Male Musician most apreciated
Daniel Erlandsson
Female Musician most apreciated
Otep Shamaya
Song always playing in your headphones
"Blood on your hands" by Arch Enemy
Best concert you've been to
Deep Purple in 2009 i wanted to see those guys for so long.
Favourite Food
Sushi and Pizza
Favourite Drink
Vodka and beer
Your hobbies
Photography, modeling, singing, literature.
Write a message to the readers
Hey thanks for taking the time to read this, Keep supporting metal ladies!