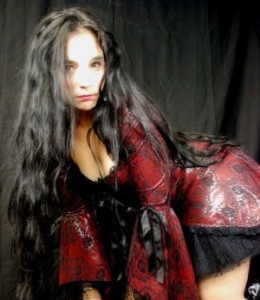 Name: Heather
Location: Wisconsin (USA)
www.myspace.com/immortaldesire
Your favourite Metal Style
Black and death metal
Your Bands TOP 5
1. Pantera 2. Acid Bath 3. Testament 4. Nevermore 5. Obituary
Male Musician most apreciated
Dimebag Darrell
Female Musician most apreciated
The Great Kat
Song always playing in your headphones
Cowboys From Hell-Pantera
Best concert you've been to
Metalfest when I saw Acid Bath
Favourite Food
Bar-B-Que Ribs
Favourite Drink
Jack and Coke
Your hobbies
I am a member of the Firewalk Girls which is dedicated to promoting and supporting metal, I write for a metal zine, I take Middle Eastern Belly Dance classes, and I do some modeling on the side
Write a message to the readers
Keep it Metal!!!