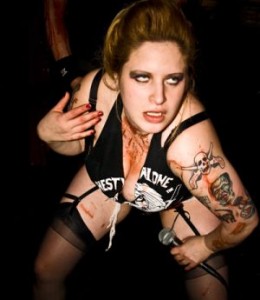 Name: Jaqueline Blownaparte
Location: Brooklyn, NY (USA)
myspace.com/
chestymaloneandthesliceemups
Your favourite Metal Style
Old School!
Your Bands TOP 5
My favorite metal bands are Iron Maiden, Danzig, Venom, Heaven & Hell and Slayer
Male Musician most apreciated
Danzig
Female Musician most apreciated
Myself!
Song always playing in your headphones
Samhain "Mother of Mercy"
Best concert you've been to
Stooges in NYC and Negative Approach in Brooklyn!!!
Favourite Food
Braaaaaiiinnnsss!!
Favourite Drink
Blood! and Jack Daniels!
Your hobbies
Singing for my band Chesty Malone and the Slice 'Em Ups, hangin' out with my cats, designing clothes for my brand Kulture Killer, making out with T-Bone, watching horror movies, raising hell!!
Write a message to the readers
Eat Brains!!!!