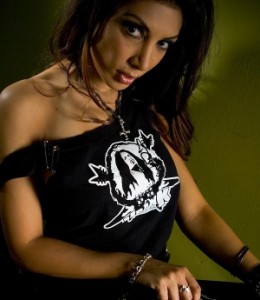 Name: Jasmin St Claire
Location: Sao Paulo (Brazil)
www.myspace.com/metalsdarkside

Audio clip: Adobe Flash Player (version 9 or above) is required to play this audio clip. Download the latest version here. You also need to have JavaScript enabled in your browser.
Your favourite Metal Style
Death metal & black metal. I like some melodic death metal as well
Your Bands TOP 5
Amon Amarth, Carcass, King Diamond, Mercyful Fate, Suffocation
Male Musician most apreciated
Michael Schenker
Female Musician most apreciated
Angela Gossow
Song always playing in your headphones
Tomorrow Belongs to Nobody : Carcass, Burning ANgel: Arch Enemy, Kill The King: Megadeth, My Apocalypse: Arch Enemy, Never Ending Hill: King Diamond
Best concert you've been to
There have been so many. Maiden has always been wonderful, but I had a blast at Carcass & Suffocation
Favourite Food
Brazilian, Sushi, Greek & traditional Norweigan
Favourite Drink
Caipirinha, Rum & coke or a nice glass of wine
Your hobbies
Metal, the beach, working out, concerts, hiking, reading &more metal
Write a message to the readers
I thank all of my fans for their support.