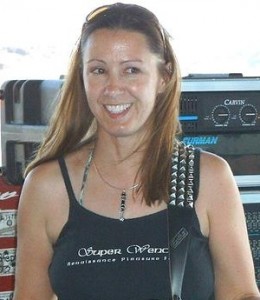 Name: Kelley Heckart
Location: Arizona (USA)
myspace.com/phantomqueen3

Audio clip: Adobe Flash Player (version 9 or above) is required to play this audio clip. Download the latest version here. You also need to have JavaScript enabled in your browser.
Your favourite Metal Style
Progressive, Alternative and Icelandic Metal
Your Bands TOP 5
I love so many bands, but these are my recent top five: Evanescence, Flyleaf, Apocalyptica, Nightwish, Seether
Male Musician most appreciated
Geezer Butler. He influenced my bass playing style
Female Musician most appreciated
Lacey Mosley of Flyleaf. Love her voice and awesome lyrics
Song always playing in your headphones
Lately, I play Apocalyptica's I Don't Care all the time
Best concert you've been to
I went to a lot of great concerts, but I have to say Queensryche's Operation: Mindcrime tour was one of the best
Favourite Food
Chocolate
Favourite Drink
Green Tea, or did you mean alcoholic drink? That would be Slippery Nipples.
Your hobbies
Escaping from reality into a good book or a good television show
Write a message to the readers
Rock on ladies!