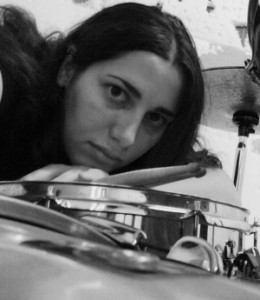 Name: Marita "Tari" Mirabella aka Mrs.Mustaine
Location: Bergamo (Italy)
myspace.com/mrsmustaine

Audio clip: Adobe Flash Player (version 9 or above) is required to play this audio clip. Download the latest version here. You also need to have JavaScript enabled in your browser.
Your favourite Metal Style
Thrash and technical Death Metal
Your Bands TOP 5
Sadus, Death, Sacred Reich, Forbidden, The Haunted
Male Musician most apreciated
Steve Di Giorgio
Female Musician most apreciated
Cristina Scabbia
Song always playing in your headphones
Control Denied – The Fragile Art Of Existence.
Just to add a personal note, I often find myself listening to songs in my head, no need of mp3-player and headphones 😉
Best concert you've been to
Honestly too many to list. As for intensity I think Sacred Reich reunion show @ Scala in London on July 29, 2007.
Favourite Food
Lasagna
Favourite Drink
Beer (carlsberg) and jack&coke
Your hobbies
Playing drums, writing, drawing, reading, taking pictures at shows, singing, volleyball and motorbike Grand Prix
Write a message to the readers
Music has no boundaries, sees no colors, sex, race, political or religious beliefs. Music can change things. Music can change people's lives.
Music did change my life and I would never live without Music.