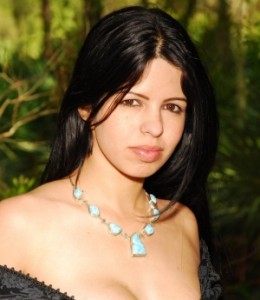 Names Mayelin, Black Zodiac
Location: Indian Country, FL (USA)
myspace.com/blackzodiac

Audio clip: Adobe Flash Player (version 9 or above) is required to play this audio clip. Download the latest version here. You also need to have JavaScript enabled in your browser.
Your favourite Metal Style
Death
Your Bands TOP 5
TransMetal, Cradle of Filth, Maryln Manson, RAMSTIEN, Dark Tranquility
Male Musician most apreciated
Lorenzo Partida—TransMetal
Female Musician most apreciated
Me
Song always playing in your headphones
Its always on random play
Best concert you've been to
Maryln Manson
Favourite Food
Sushi
Favourite Drink
Rum baby!! its the Cuban in me
Your hobbies
I am also a full time model (www.myspace.com/modelmayelin ) and Silversmith/jewelry designer (
www.myspace.com/blackzodiacjewelry
) as well as an Artist in several mediums.
Write a message to the readers
Hello my Metal friends….I am about to release my newest CD and it is LOUDER, FASTER, BETTER and SEXIER than he last and I am honored to have the guys from TransMetal in the recording studio with me and now we are all going to hit the tour as hard as we can. Join me on my myspace page and I will be posting all the info you need to follow Black Zodiac….