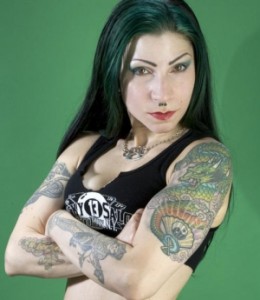 Localidad: Brooklyn, NYC (USA)
myspace.com/chisaiboo
Your favourite Metal Style
Almost all!
Your Bands TOP 5
Behemoth, Mastodon, Meshuggah, Slipknot, Lamb of God
Male Musician most apreciated
Maynard James Keenan
Female Musician most apreciated
Otep
Song always playing in your headphones
Mastodon Crystal Skull or The Last Baron, Tool Pushit
Best concert you've been to
Slipknot at the Garden
Favourite Food
vegan fast food at Foodswings in brooklyn!
Favourite Drink
Ketel One
Your hobbies
Running, reading
Write a message to the readers
I own a metal bar in brooklyn called Lucky 13 Saloon. I tend bar there saturday nights & if you are ever in NYC come say hi!!