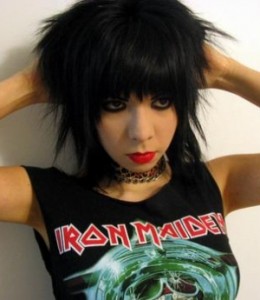 Name: Miranda May
Location: Edmonton, AB (Canada)

Audio clip: Adobe Flash Player (version 9 or above) is required to play this audio clip. Download the latest version here. You also need to have JavaScript enabled in your browser.
Your favourite Metal Style
Old School Eighties Toxic Thrash Metal!
Your Bands TOP 5
Exumer, Slaughter, Old Flotsam & Jetsam, Motorhead, Razor
Male Musician most apreciated
Lemmy is God
Female Musician most apreciated
Dawn Crosby
Song always playing in your headphones
Razor-Evil Invaders
Best concert you've been to
Iron Maiden
Favourite Food
Bacon…and chips. I have the worst diet ever.
Favourite Drink
Double Gin and Ginger 🙂
Your hobbies
Designing websites, Art, Playing in my thrash metal band, partying everyday, sewing my pants tighter.
Write a message to the readers
HEAVY METAL!!!!