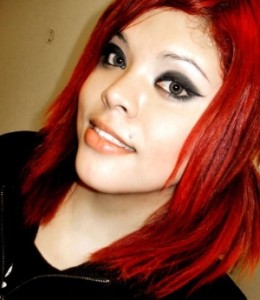 Location: California (USA)

Your favourite Metal Style
As long as it's good I listen to it.
Your Bands TOP 5
Slipknot, Avenged Sevenfold, Slayer, Children of Bodom, Trivium
Male Musician most apreciated
Johnny Christ
Female Musician most apreciated
Angela Gossow
Song always playing in your headphones
I don't know, it's always on shuffle.
Best concert you've been to
Avenged Sevenfold at Nokia LA live in April is was best show ever…I was in the front row right infront of zacky and got alot of great pictures and got johnny christ's pick..that was awesome!!
Favourite Food
Orange Tofu and White Rice
Favourite Drink
Jack and Coke
Your hobbies
Photography, Graphic Design,Going to Shows and Reading Books.
Write a message to the readers
Keep it Fucking Metal!!