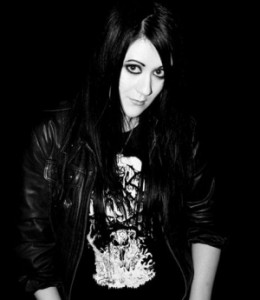 Location: Scotland
www.myspace.com/LadyOfHorrors
Your favourite Metal Style
Black Metal
Your Bands TOP 5
Mayhem, Darkthrone, Bathory, Watain, Emperor.
Male Musician most apreciated
It's too hard to pick just one! I love Attila Csihar for his unique vocal style. Also Ihsahn and Hellhammer for their musical talent.
Female Musician most apreciated
Satania of Demonic Christ is great, also Gallhammer.
Song always playing in your headphones
At the moment it has to be 'Too old, too cold' by Darkthrone and 'Scything Harrow' by Nocturnal Breed.
Best concert you've been to
Ah so many! Hole in the sky a few years back was great as well as the Mayhem gigs. I'm sure i have missed out some…
Favourite Food
Chocolate
Favourite Drink
Jack D.
Your hobbies
Playing guitar, Photography, Travelling and going to gigs.
Write a message to the readers
Check out my band
www.myspace.com/demoniccremator
Cheers!!