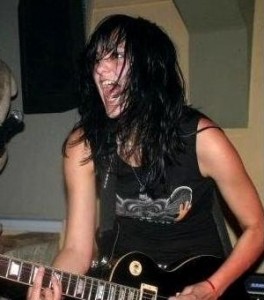 Name: Nikola "Niky" Kandoussi
Location: Prague (Czech Republic)
Niky @ Facebook
Niky @ Bandzone
Your favourite Metal Style
NWOBHM, glam, heavy, thrash, melodic death
Your Bands TOP 5
KISS,
Girlschool
, Crucified Barbara, Motley Crue, Metallica
Male Musician most apreciated
Paul Stanley
Female Musician most apreciated
Kelly Johnson
Song always playing in your headphones
"Looks That Kill" – Motley Crue
Best concert you've been to
KISS in Prague, 29.5.2010
Favourite Food
Spaghetti Bolognese
Favourite Drink
Coke / rum, bourbon, beer
Your hobbies
playing live, partying, hookah, reading, writing, table tennis
Write a message to our readers
Hey, I'm an 18-year-old left-handed girl guitarist who, among many others, loves all-female bands (The Runaways,
Girlschool
,
Rock Goddess
, Phantom Blue, The Donnas and Crucified Barbara). I write my own songs (
Niky @ Bandzone
) and currently play in the band of a well-known metal singer in the Czech Republic, Aleš Brichta. I try hard to prove that girls can kick ass as hard as any guy, and one day I'd like to start my own all-girl metal band.
Cheers!