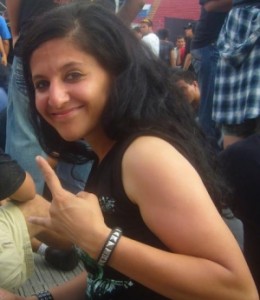 Name: Patty Bravo
Location: Lima (Peru)
Your favourite Metal Style
Gothic/Power/Symphonic
Your Bands TOP 5
Lacuna Coil, Walls Of Jericho, Korn, Within Temptation, Echoes Of Eternity.
Male Musician most apreciated
Jonathan Davis (Korn's vocalist)
Female Musician most apreciated
Cristina Adriana Chiara Scabbia De Camacho (Lacuna Coil's vocalist)
Song always playing in your headphones
Tight Rope-Lacuna Coil.
Best concert you've been to
Iron Maiden in Lima (26/03/09)
Favourite Food
Peruvian cebiche
Favourite Drink
Pepsi
Your hobbies
Listening music, singing, etc …
Write a message to the readers
Metal will prevail for ever!!!!