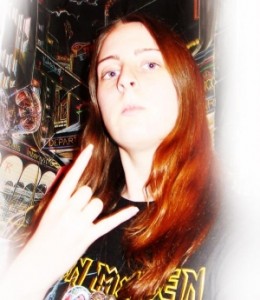 Name: Queen Demon Doll Of Metal
Location: Southern Cali (Ventura/ 805 area) (USA)
Audio clip: Adobe Flash Player (version 9 or above) is required to play this audio clip. Download the latest version here. You also need to have JavaScript enabled in your browser.
Your favourite Metal Style
I can't really pick one. I love all types of metal!!
Your Bands TOP 5
This is a hard one… Iron Maiden, Immortal, Tyr, Dio, Endstille. But I love all my bands equaly.
Male Musician most apreciated
I can not just pick one, so many I love euqaly for all their hard work and true passion of metal that they share with us all.
Female Musician most apreciated
I hope vocalist count. Sabina Classen of Holy Moses. She is one of the few females in metal back in the 80's. She remains true to herself and true to metal. She showed that women can be apart of a band and that women can also have passion for metal and not just men.
Song always playing in your headphones
I just leave my ipod on random. I like to have it that way. Almost something new everytime, or something I forgot I had!
Best concert you've been to
Iron Maiden. 2008 tour. Followed them and saw three shows. It was beyond words. They pull off the best shows of all time.
Favourite Food
Weisswurst(Weißwurst) (Right now that is. I am forever changing!)
Favourite Drink
Sweet meads (honey wine) and paulaner beer
Your hobbies
Editing pictures, taking pictures, writing, and make up(I am a make up artist), and Singing (I am a singer as well)
Write a message to the readers
Never forget what metal really is about. We are all metal brothers and sisters. Forever stay true!