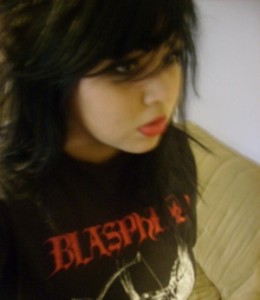 Name: Rebecca
Location: Vancouver, BC (Canada)
myspace.com/horreur
Audio clip: Adobe Flash Player (version 9 or above) is required to play this audio clip. Download the latest version here. You also need to have JavaScript enabled in your browser.
Your favourite Metal Style
Mainly Blackened Thrash or Black/Death .
Your Bands TOP 5
Bathory, Mythic,Flagellator,Bestial Holocaust, Impiety.
Male Musician most apreciated
Jesse Pintado; Circa World Downfall by Terrorizer
Female Musician most apreciated
Dana Duffey of Mythic and Demonic Christ
Song always playing in your headphones
Depends on what I'm in the mood for, I usually have anything from crust punk to death metal playing, But I'd have to say the song I most listen to is Bestial Holocaust- Masterbacion Debina.
Best concert you've been to
Morbid Angel and Motorhead 2004
Favourite Food
Greek
Favourite Drink
Vodka
Your hobbies
Drinking, Collecting records/tapes
Write a message to the readers
Support women in metal, Make the scene less male dominated and help women stop whoring themselves in the metal scene to get attention and or respect, we shouldn't have to take our clothes off in order to garner male attention to our bands and other media within this scene.It should be about determination and musicianship, nothing else!