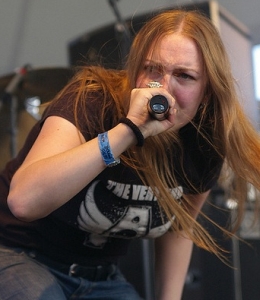 Name: Sharyn
Location: Germany
Your favourite Metal Style
Rock&Metal
Your Bands TOP 5
AC/DC, Crucified Barbara, Hole, Black Sabbath, Crashdïet
Male Musician most apreciated
Elvis Presley
Female Musician most apreciated
Doro Pesch
Song always playing in your headphones
Touch Too Much (AC/DC), Sex Action (Crucified Barbara), Bombs Away (The Scams), High Decibels ('77)
Best concert you've been to
AC/DC (2009, Gelsenkirchen – after waiting to see them for 18 Years!), Rock Hard Festival 2009 as I was on mainstage myself that year, performing infront of over 6000 people!
Favourite Food
Asian and basically everything selfmade
Favourite Drink
Tea
Your hobbies
Besides music: traveling, writing, enjoying the beauty of nature
Write a message to the readers
Live life to the fullest according to your own beliefs!