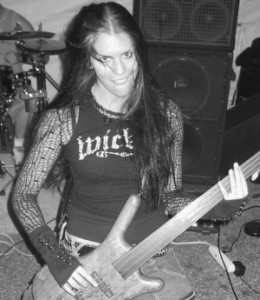 Name: Shelley Slayer
Location: Virginia Beach (USA)
myspace.com/shelleyslayer

Audio clip: Adobe Flash Player (version 9 or above) is required to play this audio clip. Download the latest version here. You also need to have JavaScript enabled in your browser.
Your favourite Metal Style
HEAVY!
Your Bands TOP 5
Amon Amarth, Death, Pantera, Carcass, Fear Factory
Male Musician most apreciated
Steve Harris
Female Musician most apreciated
Women can't play metal
Song always playing in your headphones
Ravenous by Arch Enemy
Best concert you've been to
Gwar shows are always the best, except last year's tour…that was lame.
Favourite Food
NERDS candy
Favourite Drink
Gin and Juice or Mountain Dew
Your hobbies
Video Games like Gears of War and Call of Duty, playing bass, riding my motorcycle
Write a message to the readers
Can you guys read this or am I supposed to be writing in Italian?