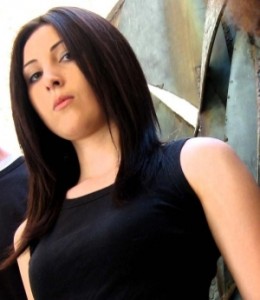 Location: Los Angeles, CA (USA)
Your favorite Metal Style
Old-school Death metal, Progressive Metal, Technical Metal
Your Bands TOP 5
Death, Cynic, Pestilence, Monstrosity, Morbid Angel
Male Musician most appreciated
Chuck Schuldiner and Paul Masvidal
Female Musician most appreciated
Angela Gossow, The Great Kat, and a few local musicians I know. 😉
Song always playing in your headphones
Not really songs, but more like albums. Cynic – Focus, Death – Individual Thought patterns, and Monstrosity – In Dark Purity.
Best concert you've been to
When i got to meet Cynic for the first time at The House of Blues in Los Angeles, and also when i went to Summer Slaughter to see Carcass at The Grove in Anaheim.
Favorite Food
Mediteranean, Italian, Chinese, Japanese
Favorite Drink
All kinds of Tea or if it's a cocktail i would drink Martinis, Sex on the Beach or Long Islands. 🙂
Your hobbies
Drawing, writing music, playing guitar and screaming/growling in my two bands, watching movies, and web surfing.
Write a message to the readers
Support underground music! Check out the local scene of some great female metal and death metal bands!