Metaladies caught up with founder of Absinthe, Briana Alexis, to see what these rockin L.A. women were all about. She talked about the new album and their busy show schedule, among other issues.
Listen to Absinthe while reading the interview: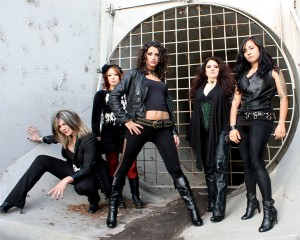 Absinthe is a new band, established in 2007. Where have you been until now?
We've actually played over 60 shows in Hollywood since our formation in 2007. The first year, we were pretty low profile, and then as we started playing out more our fan base grew very rapidly. We regularly share stages with all kinds of bands and have even opened for a few national acts. We hold our own every time. It's always great to go onstage and show everyone these girls can rock with the best of them!!!!
Absinthe consists of members from all over the globe. Has this had any effect on the music that you write?
My band members are from Barcelona Spain, Japan, Los Angeles, and Detroit the rock scene. It's definitely a great mix and I'm sure a bit of all our different nationalities definitely seep into the song writing in some way. Current line up consists of Lau – Vocals, Briana Alexis – Guitar, Felicia Villani – Guitar and backing vocals, Crystal Diamond – Bass, and Misai on Drums.
Talking about the L.A scene, what's left from the golden age of the Sunset Strip? How Absinthe fit in the scene now?
I played the Sunset Strip back in the 80's, so I know it well. It's definitely a very different scene these days. That being said, sometimes, I feel like I'm playing in a time warp, as if nothing has changed. I love telling my Sunset war stories to my younger band members, so they can live vicariously through me.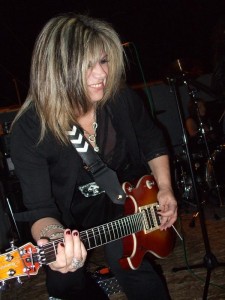 Your music could be considered as a dish of rock with a metal touch, with melodic guitars and powerful vocals. How would you describe your music?
When I formed ABSINTHE in 2007, I wanted something different, more classical metal, with cello, violin, keyboards. We soon found that we wanted the band to rock a little harder so we went back to basics, two dual lead guitars, powerful vocals, with grooving bass and drum lines. We're influence by the Metal scene, as well as a few other styles of music. The ABSINTHE sound is definitely based around loud guitars and powerful vocals with great songs with strong catchy hooks. We definitely do our own thing which is a real asset. I still haven't been able to put a label on us but we do have a rocking edge which is just the way we like it.
Tell us about your Endorsements.
We're sponsored by 9 difference companies. I'm endorsed by Tregan guitars, Trailor Trash pedal boards, AMT Electronics, Floyd Rose, Seymour Duncan, N-Tune Onboard Tuners, Floyd Rose Upgrades Products. We're also part of the Gibson Guitars family. We also play at trade shows and events for our sponsors including NAMM (National Association of Music Merchants). It's the biggest music equipment trade show. It's been so cool to have these great companies believe in what we do and to support us. I'm also going to be featured in some ad campaigns in the guitar magazines for a few of my sponsors in the very near future so keep an eye out for the ads.
Which bands have mainly influenced Absinthe's sound? Any all-female metal bands in this list?
As far as female bands, more like female fronted bands like Heart, Pat Benetar, Doro Pesch, Amy Lee of Evanescence. When I started playing in all girl bands, there weren't many. I completely support girl bands, there's more now, with better musicianship. This band has a variety of influences, old to new, such as Led Zeppelin, Whitesnake, Aerosmith, Dokken, Motely Crue, and Korn.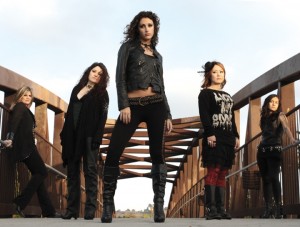 Let's talk of how it all started. How was Absinthe given birth?
I received my degree in music from Grove School of Music in Los Angeles. I went into a full blown overload music overload after I graduated. I quit playing cold turkey for a few years. In 2007 I was asked to play guitar at a special event, I was hooked all over again! Just like the movie The Godfather "Just when I thought I was out they pulled me back in". A month later I started Absinthe, The rest is history.
Was Absinthe intended to be an all-female band since the beginning? Do you think it helps to break into the scene and media?
Yes, from the very start when I formed the band, I knew ABSINTHE would be an all girl band. I think it helps, although there are many girl bands now, I believe the more of us the better. Being in an all girl band definitely helps with the media, but you must also be able to back it up. The biggest obstacle girl bands face is the typical quote "they' re good for girls." So there's more pressure, you have to be able to bring when you hit the stage. I think we definitely do…
You also play events for various charities. Tell us a bit about some of the events you've played.
We regularly play charity events and fundraisers and always help when we can if it's for a great cause. We definitely believe in helping out charities when we can with our music. We also have our wild side too. Last summer we played Calendar Girls Festival that also featured strippers and dancers on stage, the next day we played the Los Angeles Marathon. I also play second guitar with my friend Ronny North and his band when I have time. We've done some big shows together including playing 2009 Winter NAMM and for Nascar for 1000's of race fans. We really have a blast playing together on stage…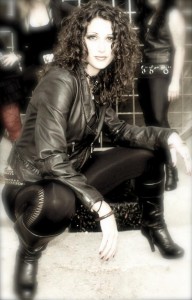 You recently won Three Rock City News Music Awards. Tell me about them, which geographical area does it cover and which categories did you win?
Rock City News Magazine is a Rock Magazine based in Hollywood, California. The publication pretty much covers the entire Southern California music scene. It's always a great honor to win awards and to be acknowledged for your talent. In 2008 ABSINTHE scooped up Best All Girl Band, Best Female Fronted, and Best Female Guitar Player. I played at their 25th Anniversary celebration, they've been around forever. Look for us in the polls again in 2009!
Will 2010 see an Absinthe album? Have you released any material already? What else do you have in store for next year that you would like to share with our readers?
There will definitely be a new full length CD out in 2010. We just completed a new EP to wet everyone's appetite until the new full length CD comes out. We also just completed a new video as well. We will be keeping the momentum going that we have built up and playing lots of shows as we always do. ABSINTHE is a great live band and we love playing out and winning over new fans as well as playing to our rapidly growing fan base. I will also be playing at the 2010 Winter NAMM Show (National Association of Music Merchants) for a couple of my sponsors again. I had a blast playing the event last year. 2010 is definitely going to be our year…..
Tell the readers why Absinthe is a band worth listening to…
I think we definitely bring something different to the table. Our music is heavy but always stays melodic with strong vocals and catchy melodies. We have a wide variety of influences and it shows in our songs. We want be considered a great band and not just a great girl band. To get more info on us or to get our new EP go to www.myspace.com/absinthewomen. We go on stage and get it done. If we're not already on your radar we soon will be…
Thank you so much for your attention, good luck!.