There are several AC/DC female tribute bands, but unlike the rest, AC/DShe setlist reviews exclusively the Bon Scott era. And they do with attitude and quality. We talked with Bonny Scott and Riff Williams about the band.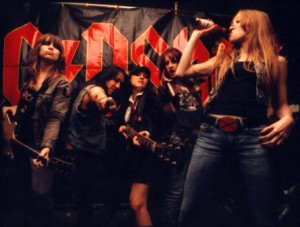 AC/DShe is the first AC/DC female tribute band, but now there are (at least) three more of them. Do you know them? What can offer AC/DShe to make you different from the rest?
Bonny – What sets us apart is our undying commitment to Bon Scott and AC/DC. We play the songs note for note and try to recreate the look and feel of an early AC/DC show. We know of the other bands and have seen what they do. A few are more like cover bands than tributes.
Riff – We clearly have the best name! We are the only female AC/DC tribute dedicated to Bon Scott era. Our ultimate goal is to do our heroes justice.
You are only playing Bon Scott era songs. Don't you feel like playing hits like "Thunderstruck", "Heatseeker" or "Stiff Upper Lip"?
Bonny – AC/DC has such a huge catalog of songs, so I don't feel like we're missing out at all. I like to hear AC/DC do them, but I don't feel like singing um.
Riff – I can't lie…sometimes it would be great to rip into some Back in Black songs, but it wouldn't make sense to have Bonny sing those songs. Bon and Brian are not interchangeable and the same thing applies here. We're purists.
And what about writing your own songs? Have you got songs by your own?
Bonny – Many of us have been in other bands and have written our own music, but AC/DShe is a tribute to AC/DC and so there's no place for writing our own songs in this band. The people who come to see us come to hear and see AC/DC songs performed live, and that's what we give them.
Do you play in other bands, any concern of expanding your musical experiences and to forget about AC/DC for a while? Or AC/DShe fills all your needs?
Bonny – Playing in AC/DShe is VERY fulfilling! We have the opportunity to play sold out shows in big venues pretty much everywhere we go. AC/DC has some of the most dedicated fans around and we're very lucky to have a great number of them as our fans too! If we want to otherwise express ourselves musically i.e., writing songs, we do that separately from this band.
Riff – Why would you ever want to forget AC/DC for a while? Life without AC/DC is like a party without booze.
This summer of 2009 you'll celebrate the tenth anniversary of the first AC/DShe show. How do you recall this day? Are you planning to make any special celebration?
Bonny – I remember that first show like it was yesterday! The first show we played was at a bar called the Port Light (more fondly known as the "Porch Light") – a long shoreman's hang out in Oakland near the port. They aren't doing shows there anymore, so we can't return there for our anniversary, but we are planning a major blowout for later in the year.
Riff – Damn, time flies when you're havin' fun. It's hard to believe how far we've come since that first show and all of the great experiences we've had as a result of this band. In celebration of our ten years, it would be great to cruise through the streets of San Francisco (or Melbourne!) It's a Long Way to the Top style.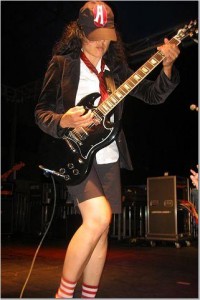 AC/DShe was officially born in 1997. More than ten years of history. Have you ever been the same line-up? What have changed in the band skills and attitude since then?
Bonny – The birth of AC/DShe was in Riff's living room when I was just a teenager. We had no idea of what it would become, we just wanted to pay tribute to our favorite band, playing shows for our friends at places like the Port Light and if we were lucky, maybe the Paradise Lounge..
Riff – We have truly improved our drinkin' skills, that's for sure. We've had some lineup changes over the years, but it's not as easy as you'd think finding dedicated AC/DC fans that love playing the music as much as we do (for this long!).
Just watching your pics and videos, I can see you are a great live band. Is this the reason why you haven't recorded anything?
Bonny – Why thank you! We believe a tribute band is all about the live experience. We started AC/DShe to give AC/DC fans the opportunity to see and hear AC/DC performed live – since AC/DC only tours about once every eight years, we thought we'd help fill in that gap. If you want to hear AC/DC at home, in your car, or in your headphones, you should be listening to AC/DC!!!
Riff – Yeah, the live experience is so much different than listening to a recording. We never really understood why anyone would want to record AC/DC songs. We've been asked several times and passed on the offers. Ain't nothing like the real thing, baby!
As you are not just an AC/DC cover band but a tribute band, do you also rehearse their movements? Do you act like them on stage?
Bonny – That's definitely one of the things that sets us a part from a lot of other AC/DC bands. We do our best to reproduce the sound and stage production of an early AC/DC club show. We are all insane AC/DC collectors and have tons of bootleg AC/DC footage that we all watch and study moves, style of playing, vocal inflections, everything to recreate their performance as best we can.
Riff – Absolutely! It's so much fun when we watch old AC/DC videos together. We pick up on new things all the time. A serious deep study!
Talking about your gigs, you've played with bands as important as Kiss, Aerosmith or Y&T, among others. Which are your best memories about it? And the worst, maybe feeling nervous?
Bonny – We are huge Cheap Trick fans and playing with them was one of my fondest memories for AC/DShe! We were able to meet the whole band and they were all incredibly nice. They told us stories from their days playing with AC/DC and talked about what a great guy Bon Scott was. They were super guys and incredibly modest and down to earth. Aerosmith was another awesome night! We opened for them and then went out to watch their set. When we tried to get back stage after their set, the security wouldn't let us back to our dressing room, so we had to literally sneak backstage at our own show. When we broke through, we ran into Steven Tyler and Joe Perry and hung out with Steven for a bit. He was a ton of fun to hang out with!
Riff – Cheap Trick and Aerosmith were definite highlights because they actually took the time to hang with us. It was also awesome opening for Girlschool. I was wearing an old Hit and Run tour shirt and brought some early tour guides for them to sign. It was quite an experience to sit around and drink beer and listen to the stories they had to tell while flipping through those tour guides.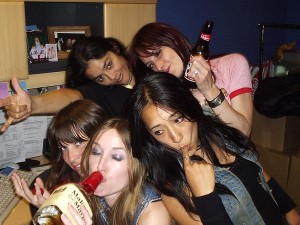 And you've been also to Europe. Where and how was it? Have you found any difference between the american and the european crowd?
Bonny – We've played in Holland and Belgium and in the UK. Different songs were hits for AC/DC in Europe and the UK, so it's cool for us to see folks get excited for songs there that people in the US barely know. European audiences seem to watch very intently and take a little time to warm up, but when they do, they go crazy and there is no holding back!
Riff – We played an AC/DC convention in Wales and it was such a crazy experience. Here were all of these rabid AC/DC fans descending on this little town in Wales. It was a 3-day party fueled by AC/DC. There are so many other places we want to play in Europe, especially Spain and Germany.
Is Agnes Young showing her underwear, as Angus does onstage to show each country's flag? 😉
Bonny – She's got just about every flag I can think of… just ready and waitin'..
If you could choose an AC/DC lineup to share stage with, which would it be?
Bonny – We are a Bon Scott tribute, so it would be Bon, Malcom, Angus, Cliff, and Phil
Riff – Agree with Bonny, although the most incredible experience that could ever be imagined would be Bon singing with AC/DShe!! A duet with Bonny…ha!
Do they know you? Have you ever been in contact with AC/DC themselves?
Bonny – They know about us and have been asked about us in the press. Plus we recently did an interview with Hustler the day before they were scheduled to interview Cliff Williams. We gave Hustler a shirt to give to him. They told us he was stoked and he has since been seen wearing it!!!
Riff – They don't know us, but know of us (and have maybe since forgotten). I know that we'll meet them when the time is right, under the right circumstances. There would be nothing cooler than sitting around shooting the shit with AC/DC.
What do you think Bon Scott should say if he could see you live?
"Cheeky"
"Aye!"
But the man could have a child until 65, she often sleeps in the guest bedroom because her husband https://erektionse.com/ Develops abruptly but you still have early-morning erections and are able to have an erection while masturbating, the problem VCLpilules.