This band from Nashville practices a good quality hard rock with some garage/punk sparks. It's time to know a bit more about this promising female quartet.
Listen to Atomic Blonde while reading the interview: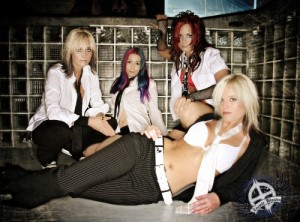 Good guitar lessons for beginners can be hard to find at a reasonable price. TakeLessons is a trusted lesson provider for nearly every instrument you can think of.
---
It seems that things are going pretty well to Atomic Blonde. In which situation is the band right now, what are you currently involved in?
We're independent artists working without a record label at the current time. We can record what we want, travel where we want to, and do enjoy the freedom of that. Our focus right now is to write more songs and to have fun doing our thing.
I'm a bit lost with such this amount of labels to identify music. Your music, a mix of power and melody, is "officially" classified as a mix between Hard Rock and Active Rock. Can you tell me the characteristics of Active Rock, and which bands could be labeled like this?
We've always been confused how to answer the "what genre is your band" question. We are unsure ourselves, so we asked industry people, friends, and other bands what they thought. Nobody can give us a straight answer, however virtually ever press kit and website requires a band to give themselves a label. We're not metal enough to be Metallica, but too heavy to be considered "Alternative". We're too modern to be classic or hard rock, and have too fast of tempos to be "Modern Rock". Active rock is actually a radio format used by commercial radio stations in the United States. Active rock stations play both "modern" and "classic" rock bands, blending bands like Metallica with Hinder, Seether and Breaking Benjamin, Fly Leaf, Hoobastank, Etc. Basically if you mixed them all together(like the Stations do), you get a sound like Atomic Blonde.
You started as a band in 2004. How did it all started?
We all had previous band experience with guys, and all felt as though we wanted to be in a group with other females. Dacia, while still living in Arkansas, placed an ad in the Nashville paper looking for band mates. Kendra, who had already moved from Ohio to Nashville, saw the ad and contacted her. Dacia moved up to Nashville and together they started looking for new members. They found me (Danielle) online through bulletin board postings, and asked me to move from New York to Nashville for the band as well. After our first guitar player Amber left, we discovered Fran working as a bartender at Coyote Ugly, up on the bar playing her guitar solo for the whole place.
You changed your name from Glass Lily to Atomic Blonde. This second name fits better with your style. It shows the contrast between your music and your look. It seems that you are working hard in these two aspects.
Yes we realized that Glass Lily, although a great name, made us sound like we're frail and fragile, and not rock at all. We were getting booked with acoustics acts, and everyone kept asking which one of us were named "Lily". We decided we had to change the name of the band. It took us months to decide on the name, but we think it fits us well.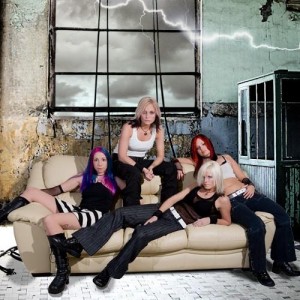 In 2005 you won a contest among 12,000 bands. Which is the mechanic of this contest? Do all the bands play live in front of a jury? And what was the prize?
Ernie Ball's battle of the bands changes every year. That particular year it was decided on votes from the public. The contest was largely online, and people registered on the Ernie Ball website, listened to whatever bands they chose, and voted for the group they felt was the best. The contest came down pretty close actually, within a dozen votes(and this was out of 100,000). As for the prize we received lots of press from Ernie Ball, tons of Electro-Voice Microphones, M-Audio and Auralex; a 210 Taylor Guitar; a guitar and bass from OLP; Remo Drumheads; Zildjian cymbals and sticks; a Boss ME-50 Guitar Multiple Effects floor-based, multi-effects processor; and hundreds of guitar and bass strings.
One of your songs was considered to appear in a Walt Disney's movie (probably not "Babydoll" ;-). Which was the song selected, how does it sound, and what happened at the end with this story?
Our song "Fire Me Up" was selected to appear in a racing scene of Disney's "Herbie: Fully Loaded" (2005). The song itself was recorded in our first few months together as a band, and had a rather poppy feel to it. The song was cut from the movie at the last minute(along with all other songs selected for the soundtrack) and replaced with some retro-oldie hits. We did not put that song on our recent EP, nor do we play it live. We just don't feel it has the raw vibe that the rest of our songs have. The song can still be heard in "Icer Air 2005" sporting event promotional videos, and on some fan clips on youtube.com.
You're gaining multimedia attention, from magazines to radio and TV stations. But it seems that Internet is one of your most powerful weapons to get known. How much do you have to thank internet for your success?
I think our success is hugely due to the internet. It has really opened a lot of doors for us, and has allowed us to share our music with a much wider audience. It speeds up the booking process, and has gotten us a lot of industry attention. We're glad to be a part of the digital revolution, and love being able to connect with fans so easily.
In 2007 Amber left the band. Was it easy to get another female guitar player? Being a female musician was mandatory?
Upon Amber's departure from the band, the remaining three of us discussed the possibility of having a guy step into the band. We were not opposed to it, but we had already met Fran and she volunteered quite readily for an audition. Fran had been to a few of our shows before, and had learned most of our songs by herself before her audition. She showed energy and determination for the group, and could write some mean solos. We were impressed with her as a person, and not because of her gender.
And what has Fran brought to the Atomic Blonde sound? She is not present in the current recordings, so you (and specially) she, must be willing to enter the studio to show her mark.
Amber is a phenomenal writer and extremely solid rhythmically on guitar, however Fran has added to this sound with a great solo-lead element. She was taught by her father, a blues guitarist, and that can really be heard in her solos. It really livens up our songs both on stage and in the studio. We've recorded a few demo tracks with her, but are waiting to officially release quality recordings on to a full length album. We have plenty of video clips posted online for any curious eyes and ears, and we believe she holds her own in the male dominated scene quite well.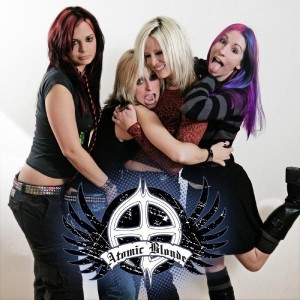 You've got some songs recorded under one self-titled album. Which is the Atomic Blonde composing process?
Usually Dacia or Fran come up with a riff or two and play it for the group. Together we form the music of verses, choruses, bridges, etc. and record them down. Dacia will write a vocal line over the recording, and then we all get back together and finish up the details of the song.
And what about the lyrics? What do they want to transmit? Are they specially oriented to a certain age, gender or profile?
Dacia, the vocalist, writes most of the group's lyrics. She writes songs on certain moods and feelings she has. A lot of people can relate to the lyrics, and are not meant to be listened to by any specific age or genre.
What can we expect from Atomic Blonde in this 2009? And for the years to come, which are your expectations? How do you see Atomic Blonde in 2015?
We're going to be getting back into the studio in 2009 and working on a full length album. We're not sure the album name or exact direction its going to go, but that is half the fun. You'll also be seeing us playing around several U.S. states, and hearing us more on the radio.
Which band would you like to share stage with, and which is the one you've already have enjoyed the most onstage, as opening act or jamming?
We'd love to share the stage with many groups; Killswitch Engage, Avenged Sevenfold, Lacuna Coil, etc., would fit our style. However, if it was ever humanly possible to open for DethKlok, we'd SO do that.
Do you know any other young all-female bands worth to take a look/listen?
The girls from Level-C are great
And do you think there is a sort of a competition between all-female bands, or the opposite, there's a sense of companion, of living the same, of helping each other.
Just like the camaraderie found in the metal brotherhood, we the metal sisters unite as well. It's a male dominated industry, and there's not a lot of us around. We've connected with several all-female bands, and continue to communicate with them. However, we have personally ran into a couple of all-female punk groups that had the typical girly "catty" attitude towards us. We're not here to compete, we're here for the music.
Try to explain the reader why they should listen to Atomic Blonde.
Atomic Blonde is a refreshing change from the usual. Its a unique blending of heavy music genres, all wrapped up with some tremendous vocals that range from sexy and melodic, to anger-management worthy.