Aythis is Carline Van Roos solo project, who also serves on the doom bands Lethian Dreams and Remembrance. We talk to her about their musical conceptions and band history.
Listen to Aythis while reading the interview: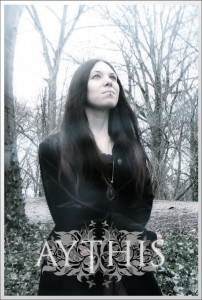 Hi Carline. First of all thank you very much for your attention. Aythis is a one woman project. Was and is it intended to be always like this?
Hi Hector. I can't really say for the future, but for now, yes it is a "solo project". As I have other bands, I have the need to be alone in Aythis. Aythis is very introspective musically as well as lyrically. Also, concerning the composition, being alone gives me total freedom. I can work at my own speed, everything depends on me.
You play in two other bands, Lethian Dreams and Remembrance. Is Aythis an escape, a place to really express yourself? A necessary complement to your other bands?
I express myself in Remembrance and Lethian Dreams, but as I said above Aythis is very introspective. It is also a necessary complement in a musical point of view, yes. I don't only listen to metal, so I thought it was somehow natural for me to have a project that wouldn't involve death vocals and heavy guitars. I created Aythis for the same reasons that, sometimes you're in the mood to listen to doom metal, sometimes death metal or other times ethereal music. In my case it's the same for the composition. It depends on my mood, my state of mind. Sometimes I need to create wild or desperate music, other times sadness or ethereal, atmospheric sounds. In a lyrical point of view, I can talk about total different subjects, some again that are more personal and that I wouldn't have wanted to talk about in my bands.
Just tell me how did it all started.
Aythis came to light in 2006 and the first song that made it all start is Shallow Blackout. After writing this song, I realized that I really loved writing this style of music, ethereal/neoclassical…then I decided to keep on exploring!
I've tried to describe your music as atmospheric, beautifully sad, as melancholic as terrific, the soundtrack of a funeral on a rainy day. Did I get the point?
Well, I'm flattered by your description! I think everybody can have its own interpretation. If people are able to feel my music, it's the only thing that is important to me. I always write my lyrics in an elusive way so that people can be free to travel wherever they want to while they're listening.
Your music is related to metal music, as your musical background, and your listener profile is mainly metaller. Can you explain where the connection between your music and metal is?
Many metallers listen to dark music, even if the music isn't metal. Another reason is, as you mentioned it, that I have 2 metal bands, so we share some fans.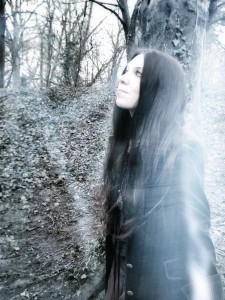 You need to feel in a specific mood to write such these songs. What sentence fits better to your composing process: "I feel sad, melancholic so I need to write about it" ? or "I have to write, so let's think in something that makes me feel sad and melancholic to be in the mood"?
I don't write music if I don't have anything to express. If I have nothing to say, I stay silent. I'm not being original by saying this, but I use music as therapy, as a way to escape, as a way to express my feelings. I would be lost without music.
There are many girls/women doing solo projects, and most of them making dark ambient music or experimental, as Turdus Merula, Coldnight, Branigan, Terra Teratos, Lidande, Melencolia Estatica. Do you know any of them?
I know Lidande, yes. The woman behind this project is a friend of mine. Unfortunately I don't know the others.
And why this little "phenomenon", all these women composing/playing "alone"? Is this a kind of music better to do on your own? Is it so personal to share with other?
I don't know. Actually I never noticed that there were so many women composing alone. I know why I do music alone (I explained it above) but I don't know why the others do it. I guess the reasons are different for everybody.
Do you think yours is a music that could be played alive? Any plans for this?
I guess I will need to adapt the songs a little bit first, but I would love to bring Aythis on stage. As it's a solo project I will also need to find additional musicians to make it be possible.
You've got your MySpace, your own web page, and your facebook group. How important is internet for Aythis? Internet is one of the best ways nowadays to make your music heard. I didn't get much promotion from Paradigms Recordings (the label that released Doppelgänger) so I needed to promote Aythis mostly by myself and internet is a very good way to do so.
Also, having a Myspace/Facebook group allows me to keep in touch with the listeners. I try to always answer to the messages or comments that people send me.
Tell me about your recordings. Aythis born in 2006, and in 2007 you had a label contract and one record released, "Doppelgänger". It's gone too fast, how did you get Paradigms Recordings attention?
When I completed the recordings of my first album, Doppelgänger, I sent few promo copies to different labels and Paradigms Recordings was one of the first to answer positive. As they said they were about to contact me, I understood we were on the same wavelength so I decided to sign with them.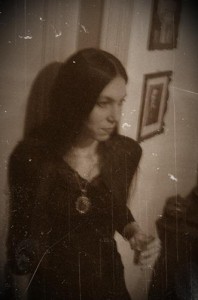 But if it went too fast, we can't say the same about the recording process. It took eight months for you to have the record ready. Why such this long time?
It took me 8 months because I was in unknown territory, if I can say it this way. By unknown territory, I mean, I wasn't decided of which sound to use. I needed time to figure it all out. I didn't want to have the exact same sound as I'm using on Remembrance, so I wanted to use special sounds for Aythis. Also, the composition is included in those 8 months. I wrote different versions for some songs, recording new versions take time.
Before this, you recorded the unreleased "With The Dreary Words We Speak". From the three songs appearing there, two are appearing in "Doppelgänger", but one has gone to the lost files box, "Too Far Gone". Just a curiosity, why haven't you added this one to the record?
This song is a little bit different from the other songs featuring on Doppelgänger. It is more like a mantra, if I can say so. The lyrics come from a tale that I invented, so I thought that "Too Far Gone" was a song somehow less personal than the others. I decided not to use it. Maybe I will re-arrange it for a future album or use it for a compilation or something like that. Or maybe it is just meant to remain unreleased…
And now have released your second LP, "Glacia" with it's a bit different but keeping the Aythis intimist basis. What can you tell about it?
The album has been relesed under the great French label "Prikosnovénie/Nove". Glacia's production is more professional as it was been mixed and mastered in studio -Doppelgänger was mixed by myself-. Regarding the compositions, I think I improved on the style, I worked hard on every little detail… Glacia paints a picture of wintry, icy and desolated landscapes. There are in fact 2 major themes in this álbum. The main theme being Nature and Winter, the second theme being The Travel. In both cases the lyrics are metaphoric. The Travel can be interpreted as a physical journey or as a spiritual journey. I hope people will enjoy listening to the cd as much as I enjoyed writing it.
Thank you so much for attending me, good luck with your music/life!
Thanks to you Hector for supporting Aythis. It was a pleasure to answer to your questions. I wish you also all the best!