With a style marked by the combination of gothic and black metal, the portuguese Black Widows has been over ten years fighting to gain a spot in the scene. Rute Fevereiro talks about the band's history and current whereabouts.
Listen to Black Widows while reading the interview:
Audio clip: Adobe Flash Player (version 9 or above) is required to play this audio clip. Download the latest version here. You also need to have JavaScript enabled in your browser.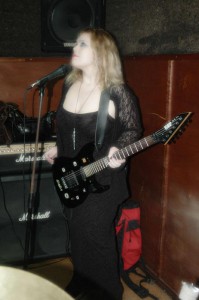 Hi Rute, obrigado for attending me. First of all, which is the current Black Widows status? Are you working in new material, playing some gigs?
Hola Hector, I'm sorry if I'm only answering you now. But I have been extremely busy in studio, and rarely have some free time. Now my time is all for you and the interview! Black Widows are working and getting ready to record an EP. We have new songs, new band members and we are focusing now on writing songs. There has been some invitations to play live, and we might accept some, but for the moment, our main priority is to record.
They've passed almost seven years since your last record, "Sweet… The Hell". What has the band been doing since then?
Well, unfortunately we had to change members for a few times and that has taken us some precious time. But for now we are settled for three female members and two awesome boys who have started as guest musicians but were 'kidnapped' to be part of the band.:P
And still searching for a permanent female drummer. How is the search going?
The searched has stopped. We are playing with João Monteiro, an awesome male drummer who plays really loud, like hell. We hope not to disappoint our fans but for the moment we are standing as a simple metal band with just good musicians.
You've always kept Black Widows as an all-female metal band, hiring male drummers as session musicians. Is Black Widows intented to be an all-female band, is part of the concept?
Well, I think I answered this one in the question before. It's hard to find good female musicians in Portugal. Usually we had to wait for them to learn to play well. So we've decided that the priority was for the band to have good musicians regardless the gender.
And why did you decide to create an all-female band? Which are they profits and disadvantages?
Well, that was in 1995. I think that it was very interesting to explore the female creativity, which is different from the male creativity. Both are good and very nice. That is the good part of the question. Of course that an all female band draws more attention upon the band, however the big disadvantage is to get professional female musicians. There are a few number of women playing here. It's not easy…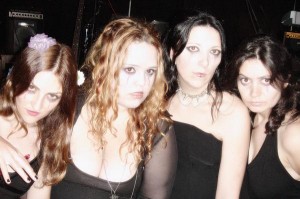 In Black Widows there have passed at least thirteen musicians. Why is it that difficult to keep a solid lineup?
As said, the problem of getting professional female musicians. Some don't play well enough, don't take this seriously enough. Unfortunately we have to face the facts and move on with a good band.
Let's try to define your style. Is mainly gothic metal combined with black elements. How would you describe Black Widows music?
Honestly, I think that I am the last person capable of answering this question. It is definitely metal but apart from that I cannot define. I invite our fans and listeners to leave a comment on myspace about what they think of this!
Your music combines three kinds of voices, black, clean and operatic. Do you sing the three of all?.
Yes, lol, I'm a female version of King Diamond! LOL.
And what do you lyrics talk about, trying to transmit?
Death and life after death. I'm obsessed about these issues. They also talk about the meaning of life and my experiences and feelings.
It's a fact that the best known Portuguese bands, as Moonspell have a dark edge. Has Portugal got a strong gothic scene?
Yes, I think so. There are lots of metal fans that also like gothic music. There are also some good bands with gothic influences.
There are many successful bands playing gothic metal, as Lacuna Coil, After Forever, Epica … All of them different musically, but as you with a gothic basis. What do you thing is left for Black Widows to become as popular as them? Which is the next step?
I think that there should be several steps, such as: good songs, catchy band image, a hardworking manager, a well known record label, and lots and lots of promotion. This is the only way, I'm afraid…
Black Widows history has undergone two bad moments, in 1999 and in 2004. By different causes, they led to the band to stop working. What made you decide to retake the band again in both cases? You'll never surrender.
Exactly: I'll never surrender. Many people want to see me down or quitting. I have a message for them: YOU CAN'T BRING ME DOWN!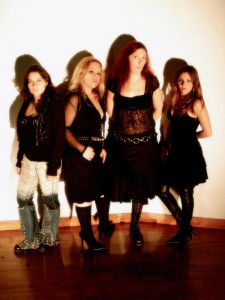 And how is the band health and mood now? Which are your expectations for a near future?
We are excited to record the new songs and also expecting the reactions about the songs and the band's change of members. You have the privilege to be the first to know all this! ( just to make you up for such delay in answering this interview).
During one of this stops you started EnChanTya. Which are they similarities with Black Widows? Is it a complement or a substitute?
None of those. EnChanTya was created by me to be a band to play a different style that I could never play in BW because it didn't fit at that time. Fortunately, the enchanted boys also contribute a lot in creating new songs or improving my songs and the result has been surprisingly good. I cannot find similarities or differences between EnChanTya and BW, but I definitely have the chance to pay more attention to my vocal performance in Enchantya as I don't play guitar in this band. We are recording our debut album at the moment and you can make your opinion in the end of the year, when it will be released.
Have you got a busy gig schedule? Is there a good concert circuit in Portugal?
Not really, we are focusing on recording. In Portugal, there are some bars, especially near Lisbon and Oporto. And there are some summer and winter Fests. I'd like myself to see more places to play…
Tell the reader what is worth to go and check one of your concerts.
Well, we will surely unleash hell…So, if you like the songs and the album, join us, and I'm sure you'll headbang a lot. I'll surely do.
Thank you so much for answering, goof luck with all your projects!
Thank you for the interview.