Taiwanese band formed by four young black and death metal fans. A entirely female act since its conception, Blair Witch members talked with metaladies about their history and future goals.
Listen to Blair Witch while reading the interview:
Audio clip: Adobe Flash Player (version 9 or above) is required to play this audio clip. Download the latest version here. You also need to have JavaScript enabled in your browser.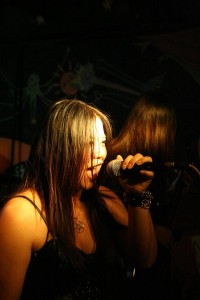 How is the Blair Witch health right now, what is the band involved in?
Shinya – Blair Witch is much better now and we are working hard. At the begining, some of our members had two bands, even the person who formed this band did. It made this band not to be sure of what kind of music and goal we wanna make.Well, you know, girls misunderstand each other so often and they didn't concentract in this band a lot besides me. I felt dispointed about them. It was that way before I met new members.
You've suffered many lineup changes. Do you feel like finally being a solid band right now?
Shinya – Our members now are serious to this band and we had the same goal. It finally became a solid band after that messy period of time. I think this is real Blair Witch.
One thing that seems to be mandatory is to keep the band all-female. Is it part of the Blair Witch concept, only witches allowed?
Shinya – When we tried to seek for new members, some male musicians had contacted me. But they didn't practice songs that we asked them to play, just sat there like coming here for picnicing! And,It's weird that there didn't come any male musician anymore after it. We've never asked for girls only but newcomers were all girls so I think this is our destiny. Girls can also play metal. This is what we wanna tell everyone!!
Maybe because of this lineup changes, your music has moved from gothic metal at the beginning to raw black metal nowadays. Is it the main reason, is it a direct influence from the band newcomers?
Shinya & Mai – It was metal for early Blair Witch but not so heavy. I think, members changing has big influence as well. Our new drummer has bigger punch than ex so the songs we wrote are more and more heavy. In addition, we all like black metal and Ice can sing it. This is the reason we turned to black!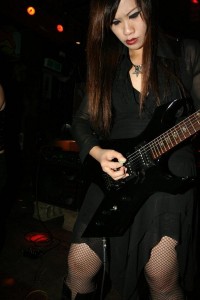 And do you think you've finally found your definitive sound? How would you describe it?
Mai – Yes, we did. I hope people who listen to our music can also image pictures we tried to express. It's a dark, cold and hopeless world.
Which is your main trademark, what makes your music distinguish from the rest, the thing you feel it's Blair Witch original?
Ice – I think being all-female is our biggest trademark haha!! Well, as my members said, we wanna show our girls' dark power. And there are few black metal bands in Taiwan. We do have female bands but they are all pop or punk. I guess people can distinguish us from the rest so easy cause we are the first female extremely metal band in Taiwan!
And which bands have influenced you the most?
Ice – For me, all black metal bands such as Dimmu Borgir, Immortal, Belphegor, Astarte and so on have influenced me the most. I think Sodom, Amon Amarth and Norther have infuenced Shinya I guess. Mai likes 80's, early Metallica, Graveworm, Burzum, Behemoth and so on.A PO is a newcomer for metal world so I am trying to take her into black metal haha! For her,I guess a drummer in a taiwanese metalcore band, Beyond Cure, has been the major influence.
Let's talk about your country. Is there a strong black metal scene in Taiwan?
Mai – It's rare in Taiwan. Well, we have two mainly black metal bands, Chthonic and Anthelion, but they are trying to become little pop to attract young people to listen. Anyway, black metal isn't so popular here but there are still few people working hard to push it out.
Is it easy for a metal band in Taiwan to appear in the media? Any radio, TV channel, magazine supporting metal?
Mai – In fact, taiwanese media always cares about scandals and gossips. There are less people who care about metal music here. Only some midnight MTV chanel or radio chanel play 80's or metal music. Well, there is a magazine named "Music-In" appeared recently. It features taiwanese metal bands, international metal bands and metal concerts in Taiwan. I am glad to know that we finally have this kind of magazine.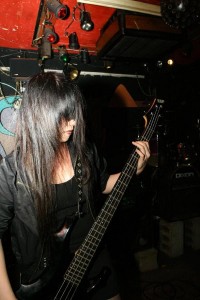 Is internet your strongest weapon to promote yourself?
A PO – I think so cause here we still have less ways to promote ourselves. I am happy that we have Music-In magazine now too.
Have you received international feedback?
Ice – Yes, we have recieved some from our myspace and my foreign friends. I really appreciate people who gave us encouragement and suggestions. These will make Blair Witch more and more stronger.
Is it easy to have a busy gig schedule in Taiwan? Which are your touring plans for this 2009?
Mai – Taiwan is a small island so places we can go are only those such as Taipei, Taichung, Tainan and Kaouhsung. I think it's enough for us to have a busy tour. We planed to join every big metal festival in Taiwan. We also hope to hold a female metal festival in 2010. If we could, we want to invite some foreign metal bands too.
And what about all-female metal bands in your country. Do you know any other band?
A PO – I guess there is only one all-female metal band in Taiwan. We have other all-female bands but they are almost pop rock and punk bands. Just wearing cute or bikini, showing how cute and sexy they are. I don't like it.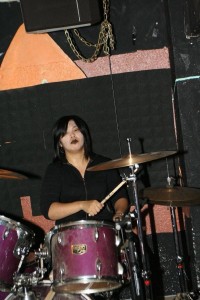 Tell me about your own songs. Do you have material enough to record an album? Any thoughts of doing it soon? I think you started recording but you had some problems to solve.
A PO – We have only 5 songs so still can't make an album. We will try to write more. We are working hard at fixing not good parts of songs and practicing it till get them perfect. We still lack experience for recording and have to improve basic skills more and more.
What do you speak about in your lyrics? Which is the concept behind your music?
Ice – I wrote our lyrics to lead people into a dark, cold and hopeless atmosphere. I tried to describe human's sick and dark side. Of course I add some satanic thoughts since elder said witches are Satan's daughters haha! The concept of our music is like that too.
Tell the readers why Blair Witch is a band worth to listen to.
A PO – We work hard and we are all-female asain black metal band. We want to spread girls power all over the world. Did you ever heard of female black metal band from Taiwan? You have to!