We've interviewed Cockpit, the american cuartet in a Mission To Rock. They have found a gap in their tour schedule to answer our questions. Learn more about this hard rock band, their future plans and aspirations, focused in touring an recording a full length album.
Listen to Cockpit as reading the interview:
Audio clip: Adobe Flash Player (version 9 or above) is required to play this audio clip. Download the latest version here. You also need to have JavaScript enabled in your browser.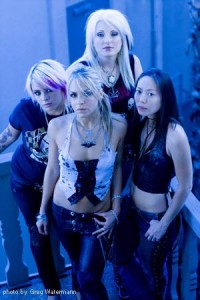 First of all, it seems you have a very busy tour schedule right now. How is the tour going?
We recently toured the mid west for a month and it was pretty fantastic. It was our first time touring in that part of the US and we were really pleased to see how many Cockpit fans were already waiting for us there.
And every little review I've read about "Mission To Rock" is full of good words. Are you happy with this feedback, do you expected something similar?
We worked very hard on that EP and we're all proud of the results. So yes, i think we did expect some positive feedback. It's always a nice surprise to open a magazine and read a good review though.
Tell us what's the thing you've liked more to read about Cockpit among all this articles.
I love the comparisons we get between us and other bands we all love. It's nice to read that people think you sound like ACDC and Judas Priest. I also like it when writers say we're a band they've been waiting for. It seems like there are a lot of people who are hungry for good rock n roll and don't know where to find it anymore.
You've been to the TV and appeared in some magazines. Do you think you are getting the media attention you deserve? How difficult is to shine a bit over all the bands trying to make it to the surface?
It's always hard to distinguish yourself, but we're off to a good start and hope there's a lot more of it to come.
And as you are touring that much, you probably haven't time to write/record new material, am I right? Do you have any new material ready to go?
Nope. We're always working on new material. And yes, we have some new songs that we can't wait to record.
You are an all-female band. Was it intended to be like this since the beginning?
Yes. We all wanted this to be an all female band from the start. There aren't enough of us out there and it's pretty fun to watch. Don't you think?
Do you thing being all-female will open you more doors than it will close?
Honestly. This industry is so hard… sometimes i think it doesn't matter if you're male, female, or (with the assistance of modern medicine) any combination of both. If you manage to have any door opened for you it's a freaking miracle.
Your sound is straight hard rock, full of power and strength. You've got the AC/DC sense of riffing. How would you describe your music?
Well i think you just did a pretty good job of it. But to further elaborate… guitar driven, straight forward rock, melodic, and classic. We don't use any tricks or gimmicks, just great songs with as much intensity as we can.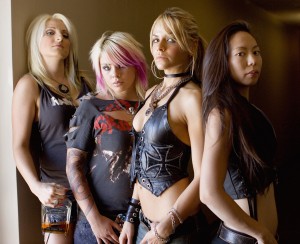 Your music seems to be specially designed to be played live, to be a killer played onstage. Born to be played, in a mission to rock. What can we expect from your performances? Do you complete your sets with any cover?
It's really important to us that we never record something we can't recreate live. You can expect our live shows to have plenty of energy and you can always expect us to have plenty of fun with them. We occasionally play a cover in a live set, but it's never been a huge focus point for us.
Which is the musical background of you four? And your main influences?
Some of us have had formal training, but we've all mostly come into our own by playing in bands and listening to good music. We all have different styles of music that we're into, but all of us have always shared a common love for classic rock and metal.
And what are your lyrics trying to transmit, what are them about?
Life experiences… what else is there to write about really?
You've got a Myspace profile, a web page and a facebook group. "Mission To Rock" is available in iTunes. Is it internet as important as to go out and play to promote yourselves?
Nothing can ever replace touring and playing live shows for your fans. It's the most import part of being a band. But yes, the internet can be very helpful in promoting your self and reaching out to fans you may not normal have contact with.
Do you think you've constructed a solid fan base in internet? Which would be the Cockpit fan profile?
It's definitely helped us. There are people who have found us online that may not have ever discovered us otherwise.
Which are your plans for the near future, and your expectations?
More touring and recording a full length album. We would love to get over to Europe and play for our fans there as well.
Tell the readers why Cockpit is a band worth to give an opportunity.
Hey, if they already read this far into the interview they must be interested already so why not go take a listen! iTunes is just a click away people.