DödsÄngel is the Swedish word to refer to the "Angel of Death", and is also the name of the solo project of the prolific Canadian-Norwegian Trish. She talks to metaladies.com about her bands and specially her solo project.
Listen to DödsÄngel while reading the interview:
Audio clip: Adobe Flash Player (version 9 or above) is required to play this audio clip. Download the latest version here. You also need to have JavaScript enabled in your browser.

Welcome to metaladies, and congratulations for "Helgrind". First of all, Trish, are you still involved in four bands from three different countries, apart than working in DödsÄngel? How do you manage to make it work out?
I am originally from Edmonton, Alberta, Canada and played in several punk bands when I lived there but they are not active anymore, the latest one was WARSYSTEM. The first time I traveled to Sweden in 2006 I was asked to play drums for Swedish punk band KÄFTSMÄLL, we recorded some demos but have not practiced in a long time. I moved to Oslo, Norway in 2007 to play drums for a black-doom-metal band SKITLIV, but after the got another drummer I joined GATE TO KHAOS (Oslo thrash-black metal), which was more suitable to my style and musical preferences. With regard to HINSIDES, the Gothenburg black metal band, we don't get to practice very much due to the long-distance relationship (it is four hours by bus from Oslo to Gothenburg), but we have one Demo CD and are working on a full-length album. My solo project, DÖDSÄNGEL is perfect because it doesn't matter where I live, I will always be writing songs and practicing as long as I have a guitar. I have been asked to try out for several more bands in both Sweden and Norway but we'll have to see if that works out and if I find time…
Explain a little bit your role in each band, and define their styles.
In my solo project, DÖDSÄNGEL, I play everything and it is blackmetal mixed with hardcore punk. In my other bands I play drums: GATE TO KHAOS is Norwegian black metal combined with thrash metal, HINSIDES is Swedish black metal, KÄFTSMÄLL is Swedish D-beat raw punk.
And how being in such this amount of bands did you feel the need to make a project by your own?
I like the music and styles produced by all of my bands, but I still always think up new riffs and songs in my head. These riffs wouldn't really fit in with any of my other bands, and besides the guitar players in those bands prefer to write all the guitar riffs. So therefore I felt the need to record these songs myself where I have creative control over all aspects of the music, and since I play everything and know how I wanted everything to sound it would be pointless and counter-productive to try to recruit other members.
So, did you need DödsÄngel to fully express yourself?
Absolutely, in my other bands I have control over what I play on the drums but it is the others who write the music. With DödsÄngel it is I who writes all the music for all the instruments and I have control over everything, the only way I could truly get the sound I want is to do this project.
What do your lyrics talk about? I can figure out than being alone they should have an introspective component.
The lyrics deal with very disturbing things, but things that are often in my thoughts, for example war, death, environmental destruction, and hatred for the majority of humanity.
In DödsÄngel you've melt various music styles from your musical and geographical background. The black metal from Norway and the Punk/Hardcore the way it's more common in north America. The result is a sound with your own trademark. How would you describe it?
I am actually much more influenced by Swedish punk than American punk, American punk was something I listened to 10 years ago in my early teenage years before I discovered the better and heavier punk bands from Sweden. But there are still several American bands I listen to, but most of the bands in that country are fairly generic and lack-luster. I am of course influenced by Scandinavian black metal, and especially by Swedish D-beat punk, there are many Swedish (and also some Finnish, English and Japanese) punk bands who blend in metal influences with their music. I would describe my sound as "blackmetalpunk", it is my favourite genre of music.
And wich are the bands you would compare such this particular sound with, your main influences?
My very favourite bands in the world of metal and punk, which influenced me the most to start this project, are Swedish punk bands like Skitsystem, Wolfpack, Martyrdöd, Anti-Cimex, and of course Discharge from England. The black metal bands would be the more grim, melodic, necro-sounding ones like Sargeist from Finland, Armagedda (Ond Spiritism album) and Arckanum from Sweden, and Burzum (first 4 albums), Darkthrone (mostly Transilvanian Hunger + Panzerfaust), and Gorgoroth (Pentagram + Antichrist) from Norway.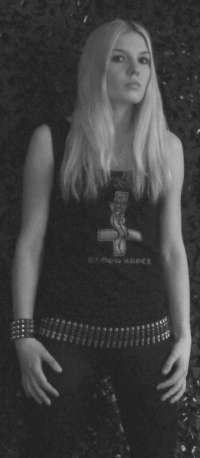 You started playing drums. Later you learned to play bass and guitar. A metal orchestra–woman. Do you feel comfortable with all of them? You still have the keyboards left…
I am a much better drummer than I am guitar and bass player, and I prefer to play drums in bands and practice drums over the other instruments. Still, I am becoming better and better at all instruments. I would have recorded sooner but I wanted to wait until I practiced guitar and bass more, otherwise I would be wasting time in the studio. I have no desire to play keyboards, the music I want to create doesn't contain any synth, although a little bit in a few certain other bands can sound good and create an extra atmosphere around the music. I used to play classical piano, I want to take it up again, but finding enough time (and a piano) is a problem…
Are you planning to take DödsÄngel onstage, any thought of how to do it?
No, then I would have to find and train guest musicians, which would take time, and I don't think it would be right to have others play my songs. This project is more for myself, songs that were constantly in my head that I needed to get out through recording them, it is something that people should listen to on record, not something that should be watched in a live setting.
Tell us a bit about the "Helgrind" recording process. Are you happy with its final result?.
I recorded it in DeathCult Studios in Edmonton, Canada in less than a week, it is the home-studio of an old metalhead friend of mine and several other Canadian metal bands have recorded there. He is good at recording, hard working, and experienced at what he does and understood completely the sound I was looking for.
Internet is a powerful tool, so the best way to promote DödsÄngel and get in touch with the fans. How has been the feedback to "Helgrind" so far?
So far I've received a lot of good feedback about the recording, especially through myspace. Another propaganda tool is giving/selling/trading demos withing the metal and punk scenes at shows, partys or bars. Pretty much everyone that has heard the music has let me know they're very impressed, and the demand for my CD is pretty large already.
Are you still searching for a record label, has the demo helped to get any offer? What do you expect from a record label?
I have been very busy lately since recording, with job searching and work in Norway so I havent't yet had time to send the demos out to any labels yet. I am still unsure as to which labels would be worthwhile sending it to, as the music may be "too punk" for many pure metal labels and "too metal" for many punk labels. I want a label that caters to both styles of music and music fans and has a good distribution and also will do a good job of promoting the albums.
Which is the next step DödsÄngel will take? What's next in your schedule?
I am just relieved to finally have this Demo recorded, I will hopefully find a label soon interested in either releasing the Demo as an album or else will agree to release the next thing I record. I have been working on a couple new songs already but that is not at the top of my list of priorities right now. But hopefully by the end of this year or maybe early next year I will have enough songs for another full length album.
And which are your expectations for DödsÄngel?
There are no expectations really, many people play music to "make it big" or try to make money, but that's not for me. As stated, I write and record songs mostly for myself, or else I would go insane with the amount of riffs going around in my head. If people like it then that's awesome, but if they can neither appreciate nor understand me and my music then fuck them. But I do hope to get signed to a decent label which would spread the name out there and give many people the opportunity to hear the music that otherwise wouldn't have.
Tell the readers why DödsÄngel is worth to listen, and why they shold check "Helgrind" out.
The songs I record are a part of me, they are my life, my "soul", that is if I have a soul, cold, dark, brutal and evil.
Trish, thank you so much for answering, good luck!