Metaladies interviewed Diana Foronda, Area 7 co-founder and vocalist, the peruvian female quintet coming out. We discover a little more about the past, present and especially the future of this promising young band, on the eve of releasing a risky third album
Listen to Area 7 as reading the interview:
Audio clip: Adobe Flash Player (version 9 or above) is required to play this audio clip. Download the latest version here. You also need to have JavaScript enabled in your browser.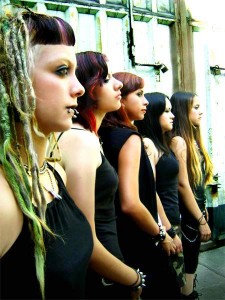 Area 7 was born in 1999 as a tribute to the bands the caliber of Pearl Jam, Alice In Chains and Nirvana. Somehow you follow in the wake of this sound, but having modernized i. Are they still the benchmarks of your sound?
The genre that we play today is the Numetal, but we are adding some grunge touches that we used to play, as pretty strumming distorted guitars or pure grunge screamings and things of that nature.
Talking about your sound, it's sometimes labeled as Nu-Metal, but other times as Hardcore or just as metal. How would you define your music?
We are a hard rock and heavy band, aometimes we have more melodic lines but we remain in the range of heavy rock.
You are the first female band in Peru. Have you opened the door to other formations? Or you're still the only entirely female act devoted to metal?.
We definitely have opened roads to some other female rock bands here in Peru, and we had a kind of anti-chauvinist mentality fight that prevailed in in our country the years such as 1999 or 2001, it was difficult to some extent, but now we are a solid non-stop band, enjoying what we do.
And was this the intention from the beginning, that of being a female band, or was it just a coincidence?
By sheer coincidence, we met as if by magic, we met at different locations with the exception of Fatima and I (Diana) that we are twins. We tried rehearsing, playing live and we liked it, we get along and understand us.
Do you think being a girl band have opened more doors than closed?
I definitely think that being a girl band draws much attention at first, but if you the crowd realizes that you play badly or yo don't progress as a band they will require equal or more than a band of men.
So it has helped, albeit unintentionally, your growth in popularity?
Maybe, but that was not the idea from the beginning. Even now that we've already celebrated our 9 years playing live, we have always considered a band, we demand the same, rehearse, record albums like any other band. Our popularity have grown because we throw out the shit jajaja moe than anything else.
Let's talk about the present and future. What is Area 7 currently working in? Composing, recording, touring? There seems to be a third album on the way.
We are currently recording our third record, we stopped playing while we produce the material, as we don't want to distract from the process and come out with a new album. If all goes fine, we could play in countries like Mexico, Bolivia and Argentina. If I am not mistaken there are already some dates that we have to tempt.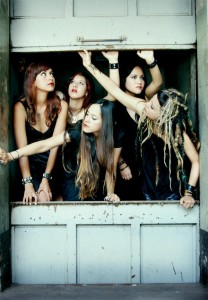 What can we expect from the new Area 7 material? Is it continuous or disruptive to your earlier compositions?
The new album is an Area 7 total evolution, it's a more ambitious production from us and the people that manage the band.
And now let's talk about the past. Yet having begun in 1999 it was not until 2003 that you had a solid lineup to aspire to what you are today. What happened to Area 7 during these 4 years?
From 99 to 2003 we were playing in small pubs, with friend bands, nothing big, weekend concerts and as you say it was not until 2003 when we played in a more than 4000 people festival. And we've not stopped since then.
In 2004 you released your first and self titled album, but the one that made you stand out was "Soul Machine". How was the feedback to the album, happy with the reviews?
Yes, actually we sold all the record copies that we had, in the whole Lima there will be about 3 or 4 left jajajaja, but we're happy with that.
You joined "Género Femenino" ("Female Gender") with your music, a contemporary dance performance by dancer Morella Petrozzi. Did you had to adapt to the format of the show, or you interpreted your music faithful to the original?
It was great because we played our songs as they sounded, with distortion, shouting, that's why it was so cool, the whole team complemented fast and above all we had not made any modifications to our music.
With "Soul Machine" also went on the "Concert Machine", crossing the borders of Peru to play in Brazil, Colombia, Chile, Mexico, Argentina … What about this experience, were you surprised to be known far from your native Peru?
In fact it was the first time we realized that Latin America is supporting the Peruvian rock like that of other countries, they support us leaving us messages on myspace or website, downloading our songs, and that was a demonstration that we were really growing and that some of our goals as a band were being reached.
This impact made you to grow your expectations. What are your aspirations for the future? What is the first step that you'll make to achieve?
Well, our greatest aspiration is to grow by staying true to what we like to do, playing live, recording albums, promoting our music for much longer. We plan to tour in late 2009 and we hope that everything will go well. After finishing promoting the album that will come out, we'll get back to the studio to record our 4th record, so there' s no stop to Area7.
Returning to Peru. Tell us how good is their metal scene. Is it in good health? Are you visited by important bands? Is it easy for Peruvian metal bands to have an schedule full of concerts
The current metal scene in Peru is not the same as it was 8 or 9 years ago. Good bands with great future ahead them have been disappearing due to the lack of support in our own country and that is regrettable to some extent. But despite this there are still concerts, metal pubs where there meet all the Peruvian metal scene, they meet in the communities, in fact, people are still having fun and that's the main thing.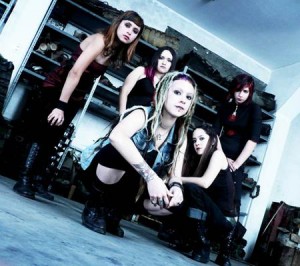 Which is the gig that you undoubtedly remember the most fondly and that has set a milestone in your career?
"The desgraciadaso" for 2003, it was great. We had 16 years, virtually it was our first mass concert here in Peru.
Your lineup has sufferen only one major change since then, with the addition of Evelyn on the bass, presumably to relief Karol and let her return to her cherished guitar. Did Karol ever become attached to the bass or she has always tried to return to the guitar?
Karito is very professional but she is definitely a guitarist by nature, although she also plays very well the bass.
What will bring to the sound of Area 7 the fact of having two guitars? Have you tried this experience life, how do the old songs fit?
The band has always had two guitars. First I played second guitar and sang, until 2007, when I stopped playing and devoted myself to be only the Area 7 voice.