We talked to Tristessa, Astarte's leader and the only member from the original lineup. She speaks about the past, present and future of the mythic helenic band. She reveals interesting aspects of her relationship with the former Astarte components, Astarte's musical concept and why being an all-female band, among other important facts from their history.
Listen to Astarte as you read the interview:
Audio clip: Adobe Flash Player (version 9 or above) is required to play this audio clip. Download the latest version here. You also need to have JavaScript enabled in your browser.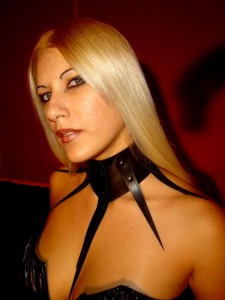 Astarte is the Babylonian Goddess of war, love and fertility, the mother of Earth and the Universe. A perfect representation of women power and skills. Astarte, as a band an a concept, could only be represented by women?
Astarte can be whatever can make us better. We do not care if we have male or female members. Music is above all. Goddess Astarte represents what we believe about female existence. We are purely inspired from that deity.
Was Astarte intended to be an all-female band since the beginning, or was it just a coincidence?
It was the right time and we were with the right persons to do a group with female members it was just a natural act for us.
Have you ever had a permanent drummer in the line-up? Is it that difficult to find a good female drummer?
Right now we have a permanent drummer his name is Ice and he play at our last album called "Demonized". It is for sure very difficult to find a female drummer which can play very fast and technical of course if we find a good female drummer we will take her to the band.
You changed the band's name, from Lloth to Astarte. Lloth wasn't that representative of women strength, but under its name you recorded "Dancing In The Dark Lakes Of Evil", and now you've resurrected the band. Which are the main differences/similarities between the current Lloth and the one from 1996? Why to use the same name with a completely different line-up?
Actually there were no differences between Lloth and Astarte in that era. We were the same members playing Black Metal in the same way. We just wanted to change the name in order to represent us more with a stronger profile and a more representative background.
Do you feel like a pioneer, like you've smashed down some walls, like you've helped all-female extreme bands to gain more confidence in what they can reach?
It is sure that me and Astarte we started something different for the standards of Black Metal scene and that helped us to attract the attention of many fans of music. That has both positive and negative results. As Astarte we keep in mind that we are here to play music. Out of all those years of experience I need to say that there are people who are prejudiced. We have face and we are still facing negative positions due to the fact that we are females and only but still we are focused to our music and we are in close communication to all those fans and media who support us.
Being an all-female band opens and closes many doors. Some all-female bands are taking advantage of its condition, but some other are not being taken seriously because of it. Being an all-female band has helped Astarte?
People were always curious to listen women play aggressive music. We support our music, we make promotions and we always care to communicate and to advertise our music. Personally I count on my personal job I do for Astarte and I do not expect to take advantage for being a female band. The best thing is to use all good sources to help the band and I get all the chances.
You recorded "Doomed Dark Years", the first official all-female black metal album. How do you consider this album, now that it has passed more than ten years of its release? If you had to write a line about this album in the Black Metal history, from the present point of view, what would you write?
This album represent the music of that decade (1990). It was a decade of changes, new elements and new sounds. A progressive, emotional but still pure and frozen decade for Black Metal sound. I would describe this album as its title "Doomed Dark Years". It was our "ticket" into music industry and it was dynamic start to continue our music action.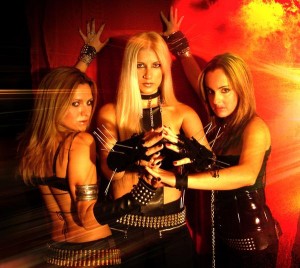 How do you recall these days when "Doomed Dark Years" was released? Do you remember any bad reaction, feedback, review, specially coming from the Black Metal scene, to an all-female metal band? How many mouths do you think you've shouted?

I remember only negative reactions from my country and only positive feedback from abroad. That's why I started to communicate with several countries and make connections and from abroad. That has opened my mind and my ears because I started to create an opinion of foreign music styles and see how system works in media. Do not forget that in 1995 we had not internet, websites and emails. So, it was harder and expensive for us to communicate. But now after all these years I must say that now i have the support of many fans from Greece and form abroad and I must thank them all for their true dedication and their support to me and Astarte.
Your image was the standardized black metal one: corpse painting, swords, and pictures in the forest. Was it just a commercial intent to break into the scene, or was the one that really fit with you music back then?

I feel and I support that every album has different outfit and we perform differently, so image is changing in order to make it more representative about our feelings every era we are writing a new album. Our image was extreme for the female standards and had nothing to do with commerciality. We dare to make several things and we were always true. Music is a way to express our beliefs and feelings which are away from our everyday life. Creativity and inspiration are both connected in order to make different things.
Talking about your image, you've changed it many times, let's say, once per album. Is it a studied move, or as image is the soul's mirror, it's a reflection of your inner self from time to time?.

Our image reflects the music. We are connected with the lyrical and musical concepts. The one is connected to the other.
"Rise From Within" and "Quod Superius, Sicut Inferius" started exploring new musical directions, like death or thrash. Wouldn't it be easier to continue with your pure black metal style, after all the good reviews from "Doomed Dark Years"? You took a risky path.

I will continue as I feel. I cannot write music and repeat myself. I can only risk with music and act free as i feel. Reviews cannot pre-determine what I will do in a future album.
And then, the first huge line-up change, and the first time you stayed as the only one holding Astarte's name. What happened? Had you ever thought it was the end of the band?

I have never felt that way. Ex-members of Astarte wanted me to feel that way. They wanted to stop Astarte and they act in bad faith behind my back. I continue to do what I love to do, to make music. I took back what I owned, i went to the court with the ex-members and the thieves of my ex-company because they steal the band name. I took it back all my legal rights of the band. That has happened in 2002 and as you see i continue with new dedicated members.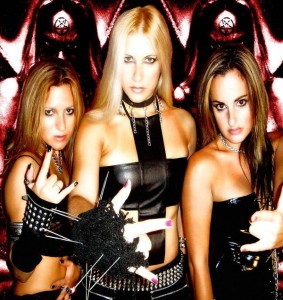 "Sirens" came with a new line-up, including Katharsis and Hybris. And then Katharsis was replaced by Derketa to record "Demonized". And with them Astarte also changed their image looking more erotic. Looking like sirens first, and sensually inviting to join satanic forces second. It seems you are using your female sensual power and weapons to transmit Astarte's message.
Every album have something different to offer and we act and dressed as we feel for every album. After all we are women, we can deny that fact and dressed like farmers ……
Paganism or Satanism? What's behind Astarte lyrics?
Behind lyrics you will find from ancient Greek history, references from beloved movies like "The Ring" or, "Lord of the Rings", there are also our believe thoughts and feelings about today reality, wars and destructions on humanity and earth. We like also to write in every album a song for Goddess Astarte and we do not take any position on politics.
The music business is in its worst moment right now, so now you don't need to trust the selling numbers to know if an album has been a success. Probably it's better to check it counting the times it has been downloaded? Everything counts for you if your music arrives to the listener?
This issue is very complicated because music, distributors and media are chaotic and can be in any part of the earth. Of course I cannot check my sales. But what I can do is to find some ways on my own in order to promote it, to sell it, to distribute it by myself. This is a secure way to handle a small part of my music progress. To stay at home and wait from the unknown others is not good. I always count on my personal work on everything has to do with Astarte.
Is it possible for you to live just of your music? Does it have any relation on Astarte never making a gig?

If you mean to make money from music, well this is a myth. I have never make money from Astarte. My chances to make money are zero and i don't care about it Astarte always is a passion for me, something to escape from reality. The fact is that until today we have not make because there not many pro-musician to take responsibilities and be solid with their obligations .Several time i have tried to set up the band for lives and always i had several issues with session members. So we have no plans for the future but this is always an open question for me and Astarte so I will do my best to make this happen someday.
Do you like any other all-female extreme bands?
I have see some bands, I do not remember the names but I have not heard a lot of things. I see the last years a lot o female band and I would love to see more of them in the extreme metal. Many bands send me emails to ask my opinion or thank me of being an inspiration for them and helped them to get involved with extreme music without fearing any reaction and that is something the honoured me.
We've seen you in youtube, in a TV program, discussing about religion with a priest. Tell me about this program, and how it went.

Actually the priest makes the battle vs me and Astarte (no just talking). It was a discussion in a Greek TV broadcast with subject "Satanic Hidden Messages in Metal Music". I was in conflict with a priest on this subject as I was trying to explain that metal is not hiding any message into its music. Metal Music is an open music that speaks free and loud about everything. Metal has no borders and is the only music kind that passes all kind of messages.
Do you feel you'll be able to convert those keeping on telling "Doomed Dark Years" is the best Astarte album ever?
It is historical for the reason that it was the first official black metal album in the world from an all female band at 1997/98. As it concern DDY. It was a very representative for those years but have not finish with music yet. I will answer this question about best album in x years when I will have close the chapter of Astarte. Then I will have a better view.
Thank you so much for answering, Tristessa, good luck with your music/life!
I thank you so much for your invitation on this conversation. I want to thank all those who really believe in us and to say a big Fuck off to all those who tried to stop my music action. Music is made to unite people and to open our minds.
Astarte shall demonize your souls…..
Hails from Greece and Athens.
Read more about Astarte here