This female trio was formed back in 2005 as Dopegirl. They released and album, but changed the name to better fit with their actitude. Metaladies talked to them about the band and their next album.
Listen to Fates Fury while reading the interview:
Audio clip: Adobe Flash Player (version 9 or above) is required to play this audio clip. Download the latest version here. You also need to have JavaScript enabled in your browser.
First of all, I think you are in the process of composition/recording of a new record. How are the things going?
Things are going great, we're so hyped about the new material and really looking forward to the new album.
This will be the first under the name of Fates Fury. The name change seems like a band's rebirth. How important has been for you?
Extremely important. The other name was an old name and an old band. This is something we all came up with and something that represents all of us.
Fates Fury is an all-female trio. Was it intended to be like this since the beginning? Both aspects, all-female and three musicians?
No, it wasn't planned from the beginning it just ended up that way. We have all played with other people, male and female, but just jamming around. And as we got tighter we were pretty insistent on keeping it a power trio.
Do you thing being all-female will open you more doors than it will close?
Yes absolutely. We do think being chicks could help, but overall our music will be the door opener.
And you are working hard to make you be known in your city. But we are talking about Los Angeles and its scene, a tough one. Is it working out?
Music scene is tough in general, but so far it's been pretty good in L.A. Everyone has really been supportive and made us feel right at home on stage.
Because living in a city like yours has its advantages and inconvenient. You have plenty of resources to expose your music, but there are lots of bands running the same race. Which is Fates Fury best trick to shine among it all?
I really believe that we are just ourselves. No tricks really. We go up there and rock as hard as we can. We're just three girls in jeans that get on stage and pour it out-straight forward, no gimmicks. It's all about loving what we do and it shows in our playing.
How is the LA scene health nowadays? What's left from their golden years?
It's good. There's still a lot of great places to play and hang out and see some old rock star buddies. L.A.'s badass! But yes it's a lot different from the way it used to be. I think a lot of bands are too worried about their look, trying to be like everyone else out there which doesn't make them stand out. Back in the day bands had a look of their own and had more fun with it as opposed to buying the 'look' at Hot Topic and take themselves way too seriously.
Your music sounds like fitting pretty well there. With punk roots, a hard rock basis with a metal edge, and a predominant sense of melody. How would you describe Fates Fury music?
Fates Fury to us is Dark & Sexy, a melodic edge and punk rock vibe really sets the tone.
Which is the musical background of you three? And your main influences?
We have all played and trained with many musicians during the years…Our influences are: Vocals: Concrete Blonde/Garbage, Drummer: Ramones/Foo Fighters, Bass: Danzig/Type O Negative.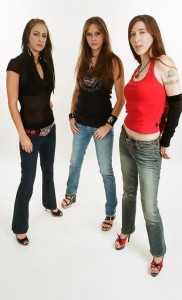 And what are your lyrics trying to transmit, what are them about? They are turning darker in your second release.
Our lyrics are really about us or our experiences. A lot of times we talk about something significant in our lives and Jerrica translates them into songs. But I think we all add a bit of ourselves to the lyrics. The darker lyrics and music is something we have wanted to do from the beginning. We have our metal/punk roots and now that we are more matured in our writing I think the music will now come across exactly how we want it to.
What can you advance from this second one? Will it be much different from your debut album?
From the second album you can expect a lot more growth in the music and lyrics. Our first one we just wanted to get done and have something to show we could do. Now we are a lot more focused on the music and making it come across exactly how we want it.
You've got a MySpace profile. Is it internet as important as to go out and play to promote yourselves?
Yes the internet is extremely important. We have access to thousands of people we would of never gotten to talk to and promote to. We made quite a lot of contacts online and the internet is essential for getting yourselves out to the masses.
Which are your plans for the near future, the next step Fates Fury will do?
Our next step is to record this album, play some shows in town and then start reaching outward bound. We hope to go on tour and play a lot more outside of L.A.
Tell the readers why Fates Fury is a band worth to give an opportunity.
Fates Fury is…Just three hard working musicians that happened to be girls and are after the same goals: To have a good time, represent where were coming from and to ROCK!
Read more about Fates Fury
Christina Poison @ Metaladies.com