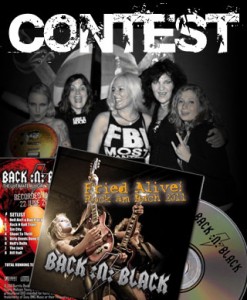 Win one of the two Back:N:Black "Fried Alive" CD/DVD packs we've got to deliver, and enjoy this all-female AC/DC tribute band amazing show.
Enter the band's facebook page, like it, and end this sentence in their wall: "For Those About To Rock …".
Do it your own way, think of something funny, curious, original, interesting and write it. The band will choose the two most creative answers.
You can watch a DVD sample below, and read more about Back:N:Black here. For Those About To Rock … Good Luck!
End Date: 14th November