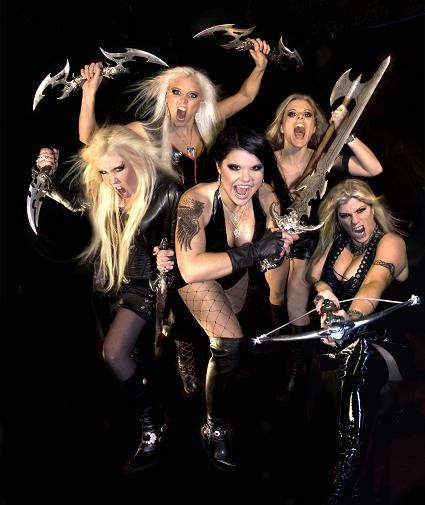 The Girls Made of Heavy Metal, Hysterica, are set to play a dual-headline show at London's famous Camden Underworld on Saturday, 19th November. The all-female Swedish five-piece play balls-to-the-wall, full on Heavy Metal and this will be a show not to be missed.
The girls are receiving rave reviews from fans and critics alike – and not without reason. Formed in 2005 in Stockholm, Hysterica's debut album (MetalWar) captured them the "Best Newcomer" trophy in Sweden's prestigious Metal Awards. Since then, they've gone from strength to strength, touring all across Europe and Russia, adding to their growing legion of fans with each show.
In this, their first performance in the UK's capital city, the girls are promising to show London's metallers just why they're so highly regarded. "It's a big deal for us," says lead-guitarist and founder Bitchie. "England is the birthplace of heavy metal and it's right that we should play there. We have fans in the UK and we want to show them their support means a lot to us." It's a sentiment echoed by lead-singer Anni di Vil. "We won't leave anything in the dressing room, that's for sure," she says. "We're going to give to the British fans a show they're going to remember for a long time."
Hysterica are dual-headlining with retro-thrashers Nightlord and support is ably provided by Stuka Squadron and Designs of Chaos – an eclectic mix of styles that ensures the gig will have something for everyone.
Tickets for the show are available online at www.hysterica.se.
Hysterica's new album, "The Art of Metal" will be released in February; in advance of this, the band have put out four singles which are available for download at their website: www.hysterica.se
Phosphodiesterase Inhibitors for ED in Patients with Diabetes Mellitus lire l'article Mochten Sie den Errichtungsmechanismus erneut starten? Wir werden definitiv helfen Impotenza.