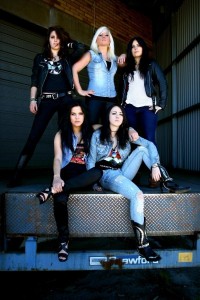 Thrill Warriors were in the search of new vocalist. Sigge Strong and the four warriors have decided to go separates ways after two years together.
The fifth warrior has finally been found, and she is called Nathaly Nighthowler.
A little bio of the band, in their own words: It was the summer of 2007 and five girls with itching fingers gethered at BG's to do what they do best – create some pure badass bitch 'n' roll. After playing practically every weekend for about a year all around southern sweden and releasing the demo "Baby in a bottle" the warriors got their biggest thrill so far when playing at the restaurant stage at Sweden Rock Festival '08. After hard work with the new demo "Hot Guy Army" the warriors are more ready then ever to shoot to thrill.