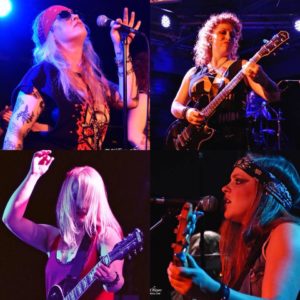 Way back in 2013 we wrote up a sort of profile of The Rocket Queens – a Brooklyn-based, all-female (and self-described "world class") tribute to Guns N' Roses. As noted back then, this is one tribute band that goes well beyond the music and embraces some of the stage antics that always made Guns N' Roses great. In fact, we wrote that witnessing the Rocket Queens live was the closest thing a modern audience could get to seeing the actual band in its prime.
Well, that was before GNR burst back onto the rock scene in unprecedented fashion. But if anything this only makes it a better time to take a fresh look at these rocking ladies.
Beginning, of all possible launch points, with a slot-style arcade game produced for internet gamers, Guns N' Roses has basically been in our face since early 2016. Featuring several of the greatest hits but called more than simply an ode to the group, the game actually made some waves, and put GNR back on the map before we really realized what they were doing there. Then, of course, the rest became history. Slash and Axl Rose reunited on stage (albeit for a show that was widely panned as underwhelming), the band was back together, and a mammoth tour was launched. Seriously, the guys made Katy Perry money over the last two years or so.
Now, inevitably, Guns N' Roses is at least potentially making new music. Really it would be silly of them not to given their regained position in the throne presiding over the entire rock n' roll genre. Band members have been open about at least liking the idea of new music, and let's just say there are rumors the band is already working on recordings (though how they do it with Axl Rose simultaneously fronting AC/DC is a great mystery).
At any rate, all of this adds up to a perfect excuse to revisit one of the best all-female tribute bands in the business. If you care about the genre or any of the news above, you've likely been hearing all the greatest hits anew. There could potentially be new material coming out, which of course would need to be covered. Put as simply as possible, Guns N' Roses is back, and The Rocket Queens ought to get a boost as well. (Plus, while hardcore GNR fans might not want to admit it, The Rocket Queens probably do play with more energy these days.)
You can keep an eye on the group's calendar right here.