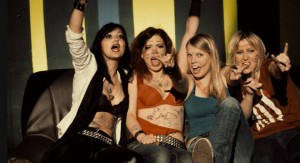 All-female heavy rock band The Agony from the Czech Republic are back with vengeance! The video for their new single 'Give It To Me' shows the new direction and style of the group and was filmed, produced and directed by Allan Šubert, who had also worked on the band's successful previous video 'T.W.S. '. Fans of The Agony (who call themselves The Agomaniacs) are in for a treat; new video was filmed for them – AND with them!
The Agony have been quite busy in 2014. In March, for their first time as headliners, they filled up the Cross Club in their hometown Prague and were joined by lead guitarist Jackie Chambers of the legendary Girlschool on the stage during their set as they played Girlschool's 'C'mon Let's Go' together. Summertime meant The Agony's second gig in Germany and first time on the bills of some rock festivals around the country as well as the attention they grabbed with their set at The Legends Rock Fest, quickly growing festival for significant bands across the Czech rock and metal scene. After some changes behind the band's drum kit – original drummer Jarka ?erve?áková left and was replaced by Martina 'Kajda' Balcarová – time came for a new single that prefigures the musical direction of The Agony's future material.
Seek no complexity in 'Give It To Me', after all, it's a sex song (provocative, but not vulgar; the band is sincerely hoping it won't be banned in the US) made of heavy riffs, rocking rhythm section, vocal harmonies and chorus that will get under your skin. This time The Agony went for the DIY style as they recorded the single at the beginning of July in guitarist Djamy Kandoussi's home studio. He also was the one who mixed and mastered the whole song, and collaborated on filming the video for it.
After the slightly underground vibe of 'T.W.S. ', the Prague quartet set off in a different direction and decided to film the new video at the disco club MAX; that is where they had invited their loyal fans who appeared in the clip and covered the band in affection – and their signatures. According to the guitarist and singer Nikola Kandoussi, it was a signing session the other way around: "We wanted to show the fans we love them as much as they love us; they'd spent the whole day with us and we hope they enjoyed it as much as we did. They're the true Agomaniacs and we couldn't thank them enough."
Related links:
The Agony at Metaladies
The Agony official website
The Agony at Facebook
The Agony at Bandzone
The Agony at YouTube