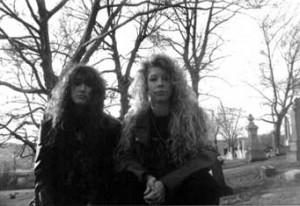 ¡Derkéta han vuelto! El primer grupo femenino de death metal de la historia ha vuelto con sus miembros originales Sharon Bascovsky y Terri Heggen a bordo, complementadas al bajo por la ex-Demonomacy Robin Mazen.
Metaladies.com ha hablado con Sharon Bascovsky acerca de la reunión del grupo en una entrevista que podéis leer aquí.
Han dejado sus problemas atrás, pues tal como comenta Sharon "todo va bien entre nosotras. Cuando echamos la vista atrás y vemos lo que sucedió, simplemente pensamos que todo fue culpa de la inmadurez de las dos. No hubo ningún problema real". Actualmente se encuentran ensayando y preparando el nuevo material que será "the old-style" ya que no saben "escribir de otra manera".
No hay fecha definitiva para su entrada en el estudio, ya que no quieren "sentirse presionadas" y simplemente quieren que todo "vaya a su propio ritmo". Necroharmonic records será presumiblemente el sello que publique el nuevo álbum.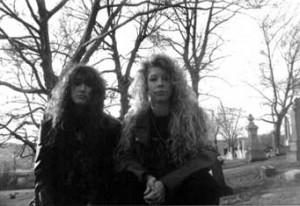 Derkéta are back! The first all-female death metal act ever is back again with their original members Sharon Bascovsky and Terri Heggen on board, complemented at the bass by the ex-Demonomacy Robin Mazen.
Metaladies.com have talked to Sharon Bascovsky about the band reunion in an interview that you can read here.
They have left their problems behind, as Sharon has stated "everything is cool with us. When we look back on it all, we just think it was immaturity from us both. No real issues when it comes down to it. " They are currently rehearsing and preparing new material that will be "the old-style" as they "don't know how to write any other way!".
There's no definitive schedule to enter the studio, they "don't want to feel pressured" and let it "just happen at its own pace". Necroharmonic records will presumably be the label to release the new album.
Gibt es eine erste Erektionsstörung? Sie sind hier Artikel lesen. Wird der professionellen Beratung im Vertrauen helfen. Understanding the most common potential causes of impotence can help a man identify viagra para tomar