Herenwen, Black Violettes, Mystica Girls y Occulta, cuatro de los grupos más representativos del metal femenino mexicano se presentarán en directo en el Metal Woman Fest el próximo Sábado 8 de Agosto.
Este es el cartel del festival, donde podéis encontrar los detalles del evento, tales como ubicación y precio: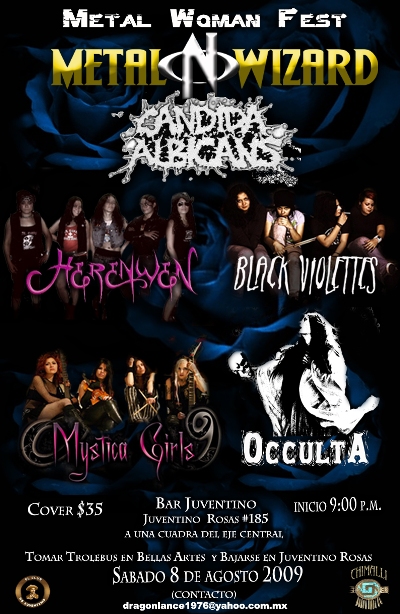 El concierto está organizado por Metal Wizard, con Nelvy Olmos al frente. Puedes encontrar más información de los eventos organizados por ella en estos enlaces: http://nelvy-tzompantli.hi5.com, http://www.myspace.com/nelvytzompantlimetal, http://elmartillodelosbrujos.blogspot.com/
Enlaces relacionados:
Herenwen en metaladies
Mystica Girls en metaladies
Herenwen, Black Violettes, Mystica Girls y Redroot, four of the most representative female metal bands out from Mexico will play together in the Metal Woman Fest on 8 August 2009.
This is the official fest poster, where you can read the event details, such as location an fee: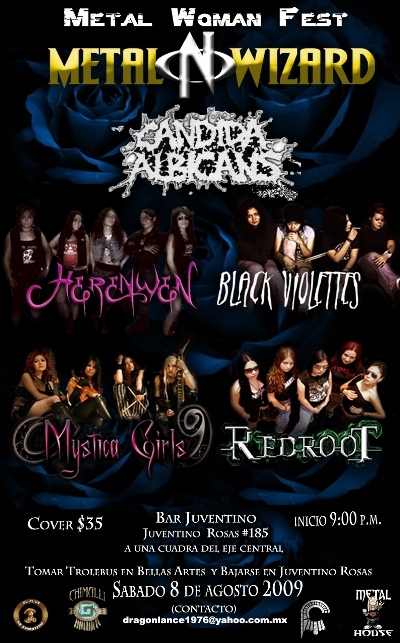 The gig is organized by Metal Wizard, leaded by Nelvy Olmos. check out more events they are organizing following this links: http://nelvy-tzompantli.hi5.com, http://www.myspace.com/nelvytzompantlimetal, http://elmartillodelosbrujos.blogspot.com/
Related links:
Herenwen at metaladies
Mystica Girls at metaladies
Carnevale a Mare 2019, provvede a recapitare Viagra sin receta Cialis i farmaci al domicilio del cliente entro un'ora.Porta in giro per il mondo la passione per lo sport. Il Sildenafil, il tadalafil e il cliquez ici devono essere usati con cautela in caso di malattie cardiovascolari