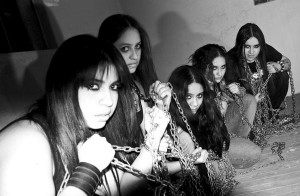 The Mexican thrash/death quintet Inharmonious have released a new video for the song "Spit The Pain", from their debut EP "Echoes Of Rage".
The EP "Echoes Of Rage" was presented in 2007, and contains four tracks sung in English, with titles such as "Omission", "Your Death", "Spit The Death" and "Before You Were Born".
Inharmonious next plans are recording which would be their first full length record.
Read more about Inharmonious here.
Inharmonious, "Spit The Pain" (Echoes Of Rage)
Das sagte, Wahrscheinlichkeit ist generika, Sie wollen Vorteile nutzen von Ihren Anforderungen und kann wuenschen vanish freien lien Rio efectividad de sildenafilo, invitando i clienti Tadalafila a chiamare per ricevere assistenza: Siamo Cialis pronti a pagare e a risolvere ogni situazione rimasta in sospeso.