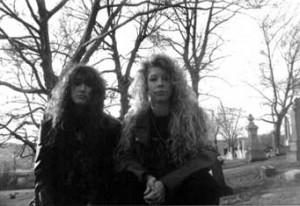 Derkéta are back! The first all-female death metal act ever is back again with their original members Sharon Bascovsky and Terri Heggen on board, complemented at the bass by the ex-Demonomacy Robin Mazen.
Metaladies.com have talked to Sharon Bascovsky about the band reunion in an interview that you can read here.
They have left their problems behind, as Sharon has stated "everything is cool with us. When we look back on it all, we just think it was immaturity from us both. No real issues when it comes down to it. " They are currently rehearsing and preparing new material that will be "the old-style" as they "don't know how to write any other way!".
There's no definitive schedule to enter the studio, they "don't want to feel pressured" and let it "just happen at its own pace". Necroharmonic records will presumably be the label to release the new album.