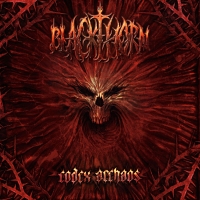 Band: Blackthorn
Record: Codex Archaos
Label: MSR Productions
Release year: 2011
Review by: Hèctor Prat
Related links
Blackthorn @ Metaladies
Blackthorn @ MySpace
Blackthorn @ Facebook
Blackthorn @ YouTube
Tracklist
1. Divination in Blood
2. Vehemence Came As Anodyne
3. Nemesis Incarnation
4. Gorgon the Ascendant
5. Emptysis Kiss
6. Arria Marcella
7. Posthumous Passion Ephemera
8. Dismalediction and the Remedy
9. (Silver Key)
10. Hexshadow Turned to Flesh
11. Bestial Satan of Grotesque Beauty
12. The Fading Ceremony
Blackthorn strikes back with "Codex Archaos", the solidification of a style that began to be defined in their debut "Araneum". The harshness of the blast-beats, the tormented keyboards and violins, and the bass lines feed the Blackthorn sound with darkness. On this basis, the guitars provide the power and energy riff by riff. The vocals, sometimes operatic sometimes guttural but always devilish, complete an excellent journey through the depths of hell.
Even being a compact and homogeneous album its dark symphonic metal has many faces, absorbing Dimmu Borgir's epic and the gothic but tenebrous beauty of the early Cradle Of Filth. The technique and accuracy of these five evil goddesses is reflected in songs such as "Vehemence Came As Anodyne", full of rhythm changes were all their weapons come into play.
"Codex Archaos" is as unpredictable as original, either by alternating tempos in compositions without a structural pattern or by details such as the piano of "Arria Marcella", the violins in "Gorgon the Ascendant" or the demonic choirs of a "Posthumous Ephemera Passion" featuring great guitar lines, melodic yet metal.
The artwork is a plus for the CD, visually reflecting the universe that enters our ears. Finally, I need to emphasize the production, as no instrument detach more than other, only pushed to the front without abruptness when its presence is required by the song vibe.
These supplements are necessary to complete a professional and recommended release.