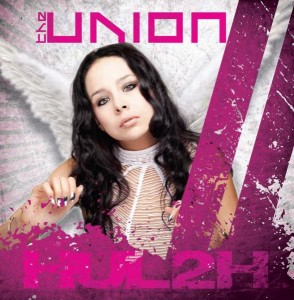 Audio clip: Adobe Flash Player (version 9 or above) is required to play this audio clip. Download the latest version here. You also need to have JavaScript enabled in your browser.
Band: The Union
Record: Hul2h
Label: The Union
Release year: 2011
Related links
The Union @ Metaladies
The Union Official
The Union @ Facebook
Tracklist
1. HUL2H
2. Let Me
3. Higher
4. All of Your Words
5. Cold
6. Forever
7. Over
8. So We Fight
9. Barracuda
10. Devil's Doll
The UnioN is a female solo project created in 2008 by Azul Far, a dedicated and pasionated musician who's been working in this album from the summer of 2009 to the winter of 2011.
"HUL2H" This album is a collection of songs that equally gives out melodic smoothness and aggression through their riffs, resulting in a homogenous album in its concept, but heterogeneous in detail.
The album cover is a clear demonstration of this fact, showing Azul Far with angel wings but showing a defiant, serious but sensual face. The same as Azul's music. "HUL2H" is filled with electronic refinements in its arrangements, that give an efective and personal touch to its gothic metal basis with every keystroke. Azul manages to adapt her voice, wrapped up in their own choirs, to fuse it with the guitar-generated power level of each song.
The album begins with the single that entitles the album, "HUL2H" a song with a strong keyboard presence running in mid-tempo to break into the powerful chorus where the guitars gain weight and presence. Is an example of what we find on the album, melodies and powerful worked riffs as a base, decorated with electronic arrangements. It is no coincidence as Azul love guitars and electronics as well.
"Let Me", undoubtedly one of the hits from the album, shows more openly Azul Far skills on guitar, in a direct song with industrial components. "Higher" is a contemporary Gothic catchy anthem, while both "All Of Your Words" with its epic chorus and "Cold" are sonic roller coasters, where you'll find calm against energy.
"Forever" is another of my favorites, thanks to Azul's work at the mic and the combination of keyboards and guitars that make this one as elegant as powerful. The electronic touches are most evident in the album's final stretch, noting "So We Fight" and the raw "Devil's Doll".As a complement, "Barracuda" is presented as a deserved and fitting tribute to Heart.
"HUL2H" is a commendable debut, not only for gothic metal lovers but for those who like the metal and electronics blend. An album ("How You Love To Hate") that U will Love To Love.
I must say that youve done a amazing job with this Cialis Generika. Medical conditions are a frequent cause of erectile dysfunction ici or ED